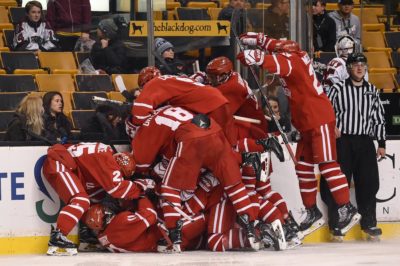 The last time the Boston University men's hockey team took on Harvard University, it was unable to pull out the victory in the 2017 Beanpot Championship.
Playing each other in the opening round of the Beanpot Monday night, the Terriers (15-11-2, 10-7-2 Hockey East) avenged last season's loss and beat the Crimson (10-9-4) 3-2 in double overtime.
"Well [it was] certainly an entertaining hockey game in a lot of ways," BU head coach David Quinn said. "For us it was a tale of two games. I thought our first period was okay, [and] second period might have been as bad a period we played all year."
The Crimson almost opened the scoring 13:41 into the first. Forward Michael Floodstrand blasted a shot that went through BU sophomore goaltender Jake Oettinger's five-hole, but it never cleared the goal line and the Terriers cleared the puck.
The play was reviewed and the call was upheld. However, it would be the Terriers that drew first blood.
Harvard sophomore defenseman John Marino found himself in the penalty box 7:01 into the opening period.
Terrier freshman forward Logan Cockerill redirected a rebound courtesy of graduate transfer forward Drew Melanson's shot and scored his fourth goal of the season. Senior defenseman and captain Brandon Hickey also chipped in a helper.
The Terriers have now scored a power-play goal in each of their last six games.
Harvard knotted the game with 5:31 left in the second period.
Junior forward and future Olympian Ryan Donato sent a pass to sophomore forward Ty Pelton-Byce, who then fired a wrist shot from the low slot that beat Oettinger for his fourth goal of the season.
The Terriers did not get many good chances, and in the middle stanza were outshot 20-4.
"We talked in between the second and third period, we felt very fortunate that it was a 1-1 hockey game," Quinn said. "We had to make a decision. Do you want to play at four o'clock next Monday or do you want to play at eight o'clock next Monday?"
BU regained the lead just 32 seconds into the second period.
Hickey recovered his own rebound, beat Marino and lit the lamp for the third straight game. Junior forward and assistant captain and future Olympian Jordan Greenway and sophomore defenseman Dante Fabbro picked up assists. 
Greenway will not play in the Beanpot Championship, something Quinn thinks will not be on the forefront of Greenway's mind as he goes for Olympic gold.
"I never know what is going through Jordan's head, whether he is going to the Olympics or not," Quinn said. "… All kidding aside, we couldn't be happier for him, [we are] very proud of him, our guys our excited for him."
Just under two minutes later, Harvard tied the game at two. Freshman forward Jack Badini scored on a sophomore forward Nathan Krusko rebound.
Oettinger got shaken up on the play, but did not miss any game time.
Despite both teams having multiple chances, neither team managed to score again in regulation and sent the game into overtime.
Both Oettinger and his netminding counterpart senior goaltender Merrick Madsen made difficult saves and stopped either team from scoring in the first overtime period.
Harvard head coach Ted Donato said he was pleased with his goaltender's performance.
"I think he just battled. It doesn't always look pretty, but they have some pretty dangerous guys," Donato said. "They found a way to get some pucks through traffic and I thought he made some great saves."
The last time a Beanpot game went into double overtime took place in 2015, when BU beat Harvard 4-3. Three years later, BU emerged once again victorious.

Just under two minutes into the second overtime period, freshman forward Ty Amonte ripped a shot from the right slot and beat Madsen on the low glove side.
"I'm really excited to be heading back to the finals, and Northeastern is a good crosstown rival," said Hickey, who won the tournament as a freshman. "So it's going to be a lot of fun to go out in the atmosphere and play against a rival like them."
BU will take on Northeastern University next Monday in the championship game. Before the Terriers do so, they will take on the University of Massachusetts Amherst Friday night at Agganis Arena.
"We'll certainly enjoy this tonight, we got a huge league game on Friday night," Quinn said. "We'll start really focusing on Northeastern after that believe it or not."