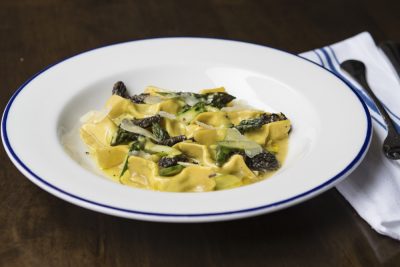 Colin Lynch, chef and partner at Bar Mezzana, stood before cooking enthusiasts in a quaint kitchen tucked in Eataly's back corner, rolling pasta dough to soft jazz Thursday, as his students for the evening looked on.
Lovin' Spoonfuls, a food rescue nonprofit, worked with Lynch and Eataly Boston to host a cooking class Thursday night. The class kicked off Lovin' Spoonfuls' new series, "Season," which connects cooking enthusiasts with experienced chefs.
Katy Jordan, communications director at Lovin' Spoonfuls, said the nonprofit hoped forming the workshop in partnership with local chefs would maximize Lovin' Spoonfuls' impact.
"[I thought], 'why don't we take these wonderful partners that we have, like Eataly and like Colin [Lynch], that have such incredible followings because of what they offer and try to connect those things,'" Jordan said.
All proceeds from the classes fund Lovin' Spoonfuls food rescue. Each ticket purchased for the event will provide a day's worth of food for 100 people, according to Jordan. In total, Thursday's ticket sales will feed 2,100 people.
During the class, Lynch shared tips on how to utilize every part of the ingredients in order to prevent food waste. Anyone can reduce their food waste by utilizing food they already own and leftovers, according to Lynch.
"Get a good base for cooking and don't be afraid of how to sauté something [or] how to boil something … Then it doesn't matter what you're using," Lynch said. "When you follow a very specific recipe it becomes more wasteful because maybe you have perfectly good ingredients in your refrigerator that could be substituted for something in the recipe, but you buy it anyways."
Lovin' Spoonfuls works with more than 70 vendors, including Whole Foods, Trader Joe's, farmers markets and local farms, to deliver excess food that isn't sellable but still usable to its beneficiaries, Jordan said.
Those beneficiaries include homeless shelters, soup kitchens, after-school programs, veterans services and elder services. A significant amount of the food Lovin' Spoonfuls donates is produce, Jordan said, so preparation can be tricky.
Nonetheless, that distribution provides Lovin' Spoonfuls' beneficiaries with food of high nutritional value, which is often difficult to donate.
"In terms of food access, perishable foods –– those healthy fresh foods are the ones that are full of nutritional value and also so frequently thrown away, so one of our lines is we bridge the gap between abundance and need," Jordan said. "We really try to connect that excess … with people that could benefit most from that nutritional value."
One in 10 Massachusetts residents are food insecure, according to The Greater Boston Food Bank. Lynch said he sees the impact Lovin' Spoonfuls is having on the issue of food waste.
"I see how impactful Lovin' Spoonfuls is within the restaurant community as far as getting people to act more locally, getting people to try and get into their own community," Lynch said. "And then you see Lovin' Spoonfuls expanding, and you see … other parts of the country starting to look at Lovin' Spoonfuls as an inspiration [and] a guide."
Lynch has worked with Lovin' Spoonfuls over the years on various events and said he continues to volunteer because he admires the company's mission.
"[Lovin' Spoonfuls addresses] what is such a stupid problem –– to have food that can't be used go to waste when there's so many people who need it," Lynch said.
Justin Alpert, 39, of Stoughton, attended the event with his wife and said he learned many tips about minimizing food waste from the class he plans to use in the future.
"We've started doing that ourselves at home, where we'll use a part of the vegetable and we'll save the rest," Alpert said. "Lovin' Spoonfuls changed the way we look at cooking and even grocery shopping."
Alpert said he plans to attend more Lovin' Spoonfuls events.
"I think [Lovin' Spoonfuls' work] is absolutely incredible, and [their type of work] is something that I think isn't done enough across the country," Alpert said. "To see that they do that and how much of a restaurant community is really backing them … is just wonderful."