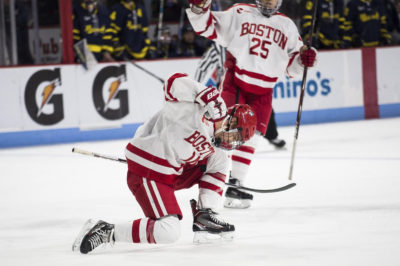 The name "Carpenter" has almost become synonymous with Boston-area hockey.
First, Bobby Carpenter spent time with the Boston Bruins in the early '90s. His daughter Alex skated for Boston College, where she captained the team in the 2015-16 season and won the Patty Kazmaier Memorial Award in 2015. She then went on to play a season with the NWHL's Boston Pride.
Now it is Boston University men's hockey junior forward and assistant captain Bobo Carpenter's turn to make a name for himself.
BU (15-11-2, 10-7-2 Hockey East) head coach David Quinn noted how Carpenter has made strides of improvement every year, which he thinks stems from the forward's maturity and confidence.
"I think you see that in a lot of great players," Quinn said. "They have good freshman years and even better sophomore years and now for him, he's made that next jump."
Quinn added that even though people like to talk about the impact freshmen have on the team, it is imperative to the success of the program for players to make these jumps.
This season, Carpenter finds himself tied for No. 12 in the country with 16 goals and tied for fifth in the Hockey East conference for point scoring with 27 points, leading the Terriers in both categories.
Although he is an impact player on the ice, perhaps the largest influence Carpenter has is in his leadership capabilities.
This year he is a member of the team's leaders alongside senior forward and assistant captain Nikolas Olsson, junior forward and assistant captain Jordan Greenway and senior defenseman and captain Brandon Hickey.
Carpenter said that it's a pretty special feeling to wear the "A" on his sweater.
"Not many people get that it's kind of an eye-opener," Carpenter said. "You want to help the team as much as you can and getting that recognition is really nice from your teammates."
As an assistant captain, Carpenter said it's his duty to show the younger guys what's best for the team and to get the underclassmen caught up in how the team does things.
One player who has benefited from skating on the same line as Carpenter for a majority of the season is freshman forward Shane Bowers.
"He's a great player and really easy to play with because he is always going all out," Bowers said. "He makes great plays [and] he's always in the right spots so he makes my job easy and it's been fun playing with him."
Carpenter said that he tries to lead by example, something Hickey and Quinn both echoed.
"His dedication … shows the freshmen and the younger guys that it doesn't come easy, [you've] got to come to the rink everyday," Hickey said. "He's our leading scorer for a reason. He's at the rink working on his game [and] working on his shot. He's showing everyone that it's not an easy game to play and it's something you got to keep working at."
Quinn said Carpenter's leadership this season has been "outstanding," and that he is a player the other members of the team respect for his work ethic and personality.
"He does everything right," Quinn said. "No matter what aspect of his life it is, he's doing it right. He's a great example for our guys."
Although Carpenter is leading his team in scoring, hockey has not been always kind to him.
Despite being ranked No. 119 by NHL Central Scouting among North American skaters before the 2014 NHL Entry Draft, he went undrafted.
Not having a professional team next to his name left a chip on his shoulder, and he said he has set out to prove people wrong.
"It definitely gave me a little motivation to kind of prove people wrong," Carpenter said. "Those are the things that can hurt you, but I had a lot of helpful people such as my sister, my family and my dad that kept pushing me and they knew if they kept pushing me it would work out in the end."
Carpenter added that he looks up to his sister and his father in terms of leadership. He also noted that he looks up to his former BU captains Matt Grzelcyk and Doyle Somerby, as well as Hickey.
Though both Carpenter and his sister have successful hockey careers, he mentioned that there is no sibling rivalry between them.
" … There's some good jokes here and there every once in a while," Carpenter said. "But we definitely help each other and we have fun with it, so it's pretty cool."
The current 2017-18 season has been sort of a tale of two seasons for Carpenter and the Terriers.
BU struggled to find any consistency in the first half of the season and became unranked for the first time since the end of the 2013-14 season.
However, since the start of the second half of the season, the Terriers have only lost one game and are riding a six-game win streak after beating Harvard University 3-2 in the opening round of the Beanpot tournament in double overtime.
BU is now just four points behind BC (13-12-3, 13-5-0 Hockey East) for the conference lead and finds itself third in the league for scoring offense, averaging 3.21 goals per game.
Carpenter said that he believes this success is because of how hard the team works and that he can see the difference from the previous semester to this semester.
Although he is not the most vocal leader, Hickey said that perhaps the greatest aspect of Carpenter's leadership is his ability to lead by example.
Just like the Terriers, Carpenter doesn't just talk the talk, but walks the walk and this has served them and himself well through hardship.
"The biggest thing he brings is that he leads by example," Hickey said. "You need those kind of guys on your team because not everything needs to be vocal, you just got to show everyone how to do once in a while."