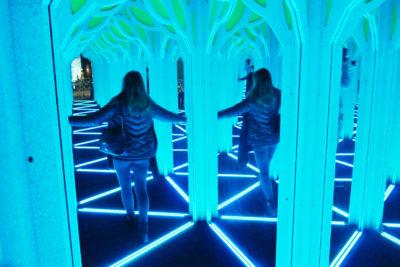 Have you ever observed the branching of your eye's blood vessels? Or listened to a piece of music composed using symmetry?
At the Museum of Science's new temporary exhibit, "A Mirror Maze: Numbers in Nature," visitors can see how mathematical patterns surround people every day. Throughout the 1,700 square foot exhibit featuring 86 mirrors and 30,000 LED lights, visitors learn about symmetry and tessellation.
The exhibit, created by the Museum of Science and Industry in Chicago, "teaches about different topics in as many diverse and unique ways as possible," said Grace Ignarri, temporary exhibits logistical coordinator at the Museum of Science.
"Visually it's very beautiful, but it also hits the topic of math in a lot of different ways," Ignarri said. "The mirror maze itself is an incredibly unique immersive experience. I think it really hits home with the idea of tessellation and all these different patterns that create an experience. [The exhibit] is a fun thing to want to bring to the museum."
An array of videos, interactive stations and games are located outside of the mirror maze where visitors could deepen their understanding of spirals, the Golden Ratio, Voronoi diagrams and fractal branching.
These hands-on activities show how patterns in nature, in humans and even in music, art and architecture are rooted in mathematics.
Godha Bapuji, a graduate student at Harvard University who visited the exhibit, came with her eighth-grade daughter, whom she homeschools.
"I find that, unfortunately, math is not taught in a way it should be, and a lot of kids, especially girls, lose their interest in math," Bapuji said. "[This is] because of the rogue learning and the complexity that is introduced in the curriculum, which I think is unnecessary."
Bapuji said she and her daughter "started exploring number and art patterns in math and nature, and that's how we ended up here looking at Golden Ratios, honeycomb patterns and so many other things."
While children dominated the interactive stations, there was one hands-on activity that attracted a long line of excited adults.
Standing in front of a large mirror, people could interpret their body's dimensions through superimposed patterns and proportions that moved with their bodies in real time, showing how "perfectly imperfect" humans bodies, which follow the Golden Ratio proportions, are.
Kenneth Nikaido, 43, of Brookline, who visited the exhibit with his 5-year-old son said the "Proportioned from Head to Toe" area of the exhibit was "hands down the best one."
"I wasn't expecting much. I thought it was more about a bunch of mirrors, but it had the mathematical implication as well. My son is in [pre-kindergarten] right now so I think the best expectation from my perspective is that he realizes there's patterns in the world," Nikaido said.
Full-body scans were only a portion of what the exhibit had to offer.
Visitors were able to create musical scales using a playable harp, make computer-generated landscapes and even observe tangible, patterned items found in nature — bighorn sheep antlers, honeycombs and an aluminum anthill casting.
"Everything we create at MSI is designed to inspire the inventive genius in everyone," said John Beckman, director of exhibit design and development at MSI in a press release. "While concepts like fractal branching can be intimidating to some, our hope is that this exhibit inspires all guests to look at the world around them with a new appreciation."
Siu-Cheong Lau, assistant professor of mathematics at Boston University who focuses on symplectic geometry and mirror symmetry, said the exhibit has great educational value.
"Visitors get more imagination and perspective on space, and it certainly introduces different kinds of shapes and curvatures," Lau said. "I think this is interesting and beneficial for people of all ages, including myself. I think more exhibits like this should be displayed in museums all over."
"A Mirror Maze: Numbers in Nature" opened Sunday and will remain open through April 25.