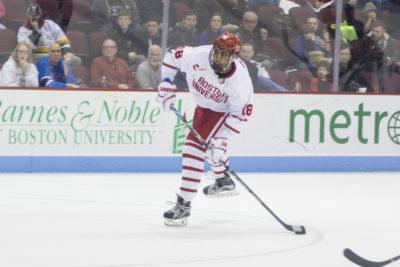 After grinding out such an emotional double overtime victory over Harvard University in the opener of the 66th Beanpot tournament on Monday night as the Boston University men's hockey team did, it can be difficult not to look ahead to next Monday's matchup for city supremacy against Northeastern University.
However, the Terriers (15-11-2, 10-7-2 Hockey East) will need to refocus with the University of Massachusetts Amherst coming to Agganis Arena Friday night to complete the home-and-home series.
"It's a difficult game to focus on," freshman forward Ty Amonte said. "But we can't look past UMass. It's a huge game for us, a huge league game. We need these points."
The series between the two teams began last Friday night in Amherst, as the Terriers edged the Minutemen (12-16-1, 6-12-1 Hockey East) 3-2.
"That game could have gone either way," BU head coach David Quinn said. "We knew they had speed, a really good D-corps. I thought we got better as the night went on. You knew it was going to be a one goal game. We're expecting another one tomorrow night. It's going to be a tough game."
BU had assistance from a plethora of sources in the victory, receiving goals from senior defenseman Brandon Hickey, junior forward Jordan Greenway and freshman forward Shane Bowers.
Five different players registered assists. Junior forward Bobo Carpenter, sophomore defenseman Dante Fabbro and freshman forwards Brady Tkachuk, Logan Cockerill and Bowers all put up points in that category.
The contest was a back-and-forth affair until the final period. Hickey opened the scoring with a goal in the first period, but UMass provided the equalizer 33 seconds into the second frame on a power-play tally from freshman forward John Leonard.
"I don't think we played a great first two periods," Amonte said. "It showed. You could see the difference in the third."
BU answered the bell 13:44 later, as Greenway, who will be marching with Team USA in the 2018 Winter Olympics while the puck is dropped on Friday, put home a power-play goal.
"It's definitely tough," Hickey said about life without Greenway on the ice. "But everyone is waiting for their opportunity to show what they can do. It's a 'next man up' mentality. He's gone, but we have a whole bunch of other great players that can play together and pick up the slack."
The Terriers essentially laid the nail in the Minutemen's coffin 7:28 into the final period when Bowers finished off a feed from Cockerill.
The loss was UMass' fifth in a row, and the skid continued on Saturday night with a 3-1 loss to the University of New Hampshire. However, the Minuteman rebounded on Tuesday with their first win since Jan. 19.
Facing Merrimack College, UMass came out with a vengeance, scoring twice in the first period to garner a quick 2-0 lead.
The Minutemen kept the Warriors (8-17-4, 5-13-2) on the hook by failing to score in the second period, only to seal the result with two goals in the first 1:13 of the third.
Leonard scored twice in the game, continuing a solid campaign that has included eight goals and 10 assists. Surprisingly, neither of UMass' top two scorers recorded a point in the win.
"They are vastly improved," Quinn said of the Minutemen. "They've got depth."
Freshman forward Oliver Chau has impressed in his first Massachusetts winter, leading the squad with 21 points, which has consisted of eight goals and 13 assists.
Chau earned Hockey East Rookie of the Week honors on Oct. 30, after recording a goal and three assists in his team's first pair of games against Merrimack.
The only UMass player with a double-digit goal tally is freshman forward Mitchell Chaffee, who has scored 11 goals to accompany nine assists. Despite finding the back of the net 11 times, Chaffee has only had one multi-goal game during his brief time in Western Massachusetts.
On the injury front for the Terriers, sophomore forward Patrick Harper still has not received the green light to return to action due to illness.
"Still day-to-day," Quinn said. "He's getting close. Other than Harper, we should be good to go."
CORRECTION: A previous version of this article had the wrong caption on the photo. A new photo has been uploaded in its place and the current version reflects those changes.