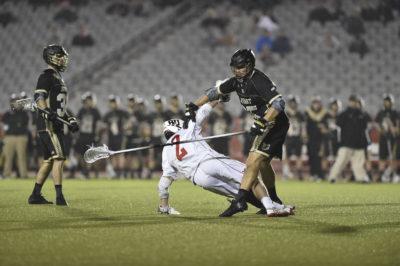 The No. 20 Boston University men's lacrosse team will travel to Columbus, Ohio this Saturday to take on No. 7 Ohio State University.
Coming off a thrilling 12-11 overtime victory against Providence College at home, the Terriers (1-0) are looking to win their first road game against the Buckeyes (1-0).
" … There are a lot of positives from Saturday," BU head coach Ryan Polley said. "I think we beat a really strong team who I think will have a really good season."
The Terriers graduated their first senior class last year, who propelled the team to its first ever Patriot League tournament berth. Additionally, BU's progression was so swift that it sent two players, attack Cal Dearth and defenseman Dominick Calisto, into the Major League Lacrosse.
This year, in the fifth season of the program, the Terriers have welcomed a large number of fresh faces. As such, veteran players like senior attack Jack Wilson and senior midfielder and faceoff specialist Joe Stucky will be relied upon to provide some direction.
However, Polley noted that the team's depth will be necessary in order to bring home a win.
"I think everyone's just going to have to play well," Polley said. "I don't think any one player is going to be the difference."
Even with an abundance of novices on the team, BU will continue to rely on fundamental elements of its game to find success.
Last year, the "six hands" strategy was an integral part of the team's offensive style of play, which facilitated and encouraged increased passing among the six offensive players.
This model of shared production contributed to enhanced scoring efficiency on the field, but also had a less noticeable yet potent impact on team camaraderie. Players that share the ball on the field feel more connected to one another off the field.
This sort of connectedness translated into a strong sense of resilience that was evident in the team's win over Providence (0-1).
BU had allowed a staggering nine goals in the first half to the Friars. Yet, in the second half, the Terriers' defensive front and sophomore goalkeeper Joe McSorley became more fortified, only permitting two goals and ultimately sending the game into overtime.
"I thought our goalie play in the second half was excellent so that was really nice to see [McSorley] rebound after giving up nine goals in the first half," Polley said.
Contrarily, on the offensive side, Polley said he was impressed by his team's ability to score. BU was unfazed by the defensive prowess of Providence, and were able to notch 12 goals.
Yet he did acknowledge that the team was careless with the ball. Turnovers amassed to a game total 16, 11 of which came in the second half alone.
Polley said the next step for his team will be playing staying consistent throughout the matchup.
"I think we just need to be a little bit more consistent in everything that we do," Polley said. "Just thinking back to the first half [against Providence], we weren't very consistent on the defensive side of the ball and then towards the end of the game, we turned the ball over a lot on offense…"
While the early season win was good for building team confidence and morale, Polley is not averse to losing. It is not his intention to lose, but he views a loss as more of an opportunity to grow and progress.
From his lens, losses are more constructive than regressive.  
"You want to get off to a good start because you want to continue to grow and get better, but I think everybody also realizes that you need to be peaking at the end of the season," Polley said.
With that in mind, Polley and his team are going into this weekend's game with the intent to develop.
An area that Polley highlighted will pose a threat to the Terriers is the Buckeyes' performance at the faceoff dot.
In Ohio State's 13-6 win over Cleveland State University, sophomore midfielder Christian Feliziani and freshman midfielder Justin Inacio helped win 16 of the 22 faceoffs.
The Buckeyes were also paced by graduate student midfielder John Kelly's four goals and sophomore midfielder and attack Tre Leclaire's hat-trick.
Ohio State's greater experience will test the resolve of the Terriers, who are looking to turn their unprecedented success last season into the norm.
"I think for us we're trying to get better on a weekly basis and I think we got better last week and we played a really good team, we were able to grind through a win," Polley said. "This week we get to play a top 10 team and kind of measure ourselves against that. We've had four good days of practice and we'll hopefully have another really good one on Friday, get us prepared and play a really great game on Saturday."
Jacob Gurvis contributed to the reporting of this article.