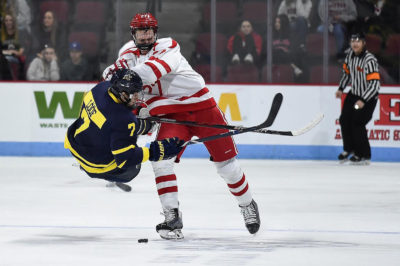 In the early '90s, Keith Tkachuk lit up score sheets for the Boston University men's hockey team. He followed his time with the Terriers (15-12-3, 10-7-3 Hockey East) by embarking on a 19-year NHL career, which accumulated in an election to the United States Hockey Hall of Fame.
Nearly three decades later, there is a new Tkachuk on Comm. Ave., his son: freshman forward Brady Tkachuk.
The Daily Free Press met up with the promising freshman and asked him about his favorite pregame music, who the funniest player is in the locker room is and his favorite NHL players.
Why did you decide to come to BU?

Obviously when the opportunity came up [I took it], and my dad went here and my family is around here. [There are] great facilities [and a] great coaching staff so it was an easy choice and I'm glad I'm here.

What is your favorite part of BU so far?

The guys on the team really made it [an] easy transition coming in. The older guys have been awesome to us younger guys. I think our team's really clicked and I've made a bunch of really good friends in that locker room.

What advice did your father give you about playing here?

Just cherish it, have fun and use every opportunity you can have. Go on the ice extra, get stronger and work your hardest every day.

How do you avoid getting wrapped up in the NHL draft rumors?

I just focus on every day [and] trying to get better every day. It's still a ways away, and it's out of everybody's control. So [I] just try to focus on getting better every day.

There are 12 players on this team who have been drafted to professional teams, how has playing on a team with all that talent improved your game?

I think we're one of the best teams in the country. Every day we're all competing and all trying to be the best out there and we're all making each other better. So I think … a big part of our team is our competitive nature so that's definitely really helped.

You've played at Red Hot Hockey, the World Junior Championships and now the Beanpot, how have you managed to handle the pressure of these big games?

Just focus on playing your best, and playing your best for the team. They're all big stages, big games so just try to do your part and and play your best for the team.

How would you describe your playing style?

Power forward and [someone who] plays best around the net, just making plays, give and go with his teammates and [a] strong skater and not afraid of anyone out there.

How have you found the transition to NCAA hockey?

It was tough at first. [There are] some older, bigger guys, it was tough to adjust. But then playing with some really good players, it's definitely helped. Over time you get more confidence so I think right now it's been pretty good.

What has been your favorite hockey moment?

I'd say the outdoor World Junior game. It was just [an] awesome atmosphere with the 44,000 people and the snow and it was a lot of fun.

How have your father's and your brother's NHL careers impacted you?

It's definitely motivation to see them do that. It's definitely something I want to do and especially [Calgary Flames forward] Matthew who's two years older than me. We have a really close relationship so to see him go through it and it's so exciting to see him and see him doing well. It's definitely something I want to do and they're really big influences on me.

What have you learned growing up around the game that you take with you off the ice?

Just how to treat people. To see my dad when he was playing and see how he treated all the trainers, the coaching staff [and] fellow teammates. Just see that and learn that and apply that here and try to treat everybody good.

What is your pregame ritual or superstition?

I'm usually the last one dressed. I get dressed with five minutes left so I'm usually the last one out of the locker room.

What is one area of your game that you would like to improve?

I could always improve my skating, my strength [and] my skills. If I keep working on that I'll be happy.

Which older player on the team has had the biggest impact on your season so far and why?

There's a bunch of them that have really helped me personally, but one guy, [junior forward and assistant captain Jordan] Greenway, I've been playing with him for the past couple of months now. [To] see how he treats everybody and how he looks into the game and how motivated he is, I've definitely learned a couple of things from him.

What has gone into your recent hot streak?

Just playing with confidence, just have the puck on my stick. I'd just say confidence there.

Besides hockey, what other talents do you have?

I can play the guitar a little bit, but that's pretty much it.

What type of music gets you pumped prior to games?

I'm not really a big pump up guy, I'm pretty motivated so I just pretty much listen to either country or some Lumineers, like that type of band and stuff.

Who is the funniest guy in the locker room?

I'd say [sophomore goaltender Jake Oettinger]. He's a pretty funny guy.

Besides your brother, who is your favorite NHL player?

I like watching [Philadelphia Flyers forward] Wayne Simmonds and [Dallas Stars forward] Jamie Benn. Just seeing how they play and how good they are down low. I'd really like to model my game after those guys.

Do you have any current goals moving forward for the rest of the year?

Just win out Hockey East, win Hockey East playoffs and win the national championship because I think our team is definitely capable of doing that.