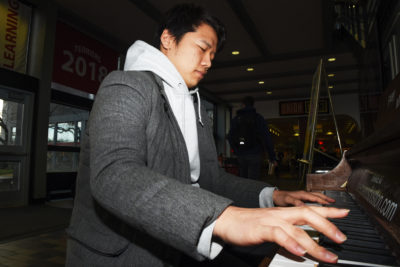 If you've walked from Mugar Library to the George Sherman Union food court on a weekday around 3 p.m., you've probably seen him — or at least heard him. Seokje Koh, a junior in the College of Arts and Sciences, practices on the public piano in the GSU link every weekday for 30 minutes to an hour.
Koh, who can usually be heard playing his own new-age classical songs, does not have a keyboard and said he likes the background noise of playing in the GSU.
"Sometimes people will say, 'thanks for playing' or 'good job,'" Koh said. "When I'm playing in the GSU … I can concentrate more on my songs than when I play them alone."
BU students don't have a monopoly on the GSU piano, however. Anybody can go up and play, at any time of day. At around 4 p.m. on a Monday, Mohammed Nassem, who graduated from the College of Fine Arts in 2016 and now attends graduate school at the Rhode Island School of Design, played Chopin's "Nocturne in E Flat Major."
"This is really nice because I was so nervous about playing in public," he said. "Knowing that people are listening but just walking around and not really paying attention really helped me."
Nassem said he would play the piano for a bit almost every time he was near the GSU when he attended BU. Sometimes, he would play Arabic songs and people who recognized them would compliment him or start conversation.
"I really appreciate it being here because if I'm in between classes and I don't want to go back home to play, it's always nice to stop by here," Nassem said. "I wish there were more of them … sometimes it makes someone's day."
While some GSU piano players stick to classical or original compositions, others play audience-pleasers like "Love Story" by Taylor Swift. It's one of Matthew Hyungsok Hall's favorites. He has been playing piano since he was five years old, but said he has more freedom to play whatever he wants now that he is in college.
"I didn't have to play classical stuff anymore, I could just play whatever I wanted," said Hall, a CAS junior. "I just play whatever bad pop music I enjoy."
Hall said coming to the GSU to play the piano is therapeutic; it is a way for him to relax a few times a week in between classes.
"I think BU can be a tad bit stuffy," he said. "People here take themselves a little bit too seriously."
Hall also uses the GSU piano because it is one of the only ones he has access to on campus.
"I don't understand why, but if you play music but you're not a music student at BU, you can't use the practice rooms at the College of Fine Arts," he said. "So honestly, this piano and a couple ones around school are the only ones people that aren't in music can use."
Kamil Davis, 22, of Allston, sought out the GSU piano for a different reason: He wants people to make connections with each other through music. He first saw the "Play Me, I'm Yours" pianos in New York City, and sought out ones in Boston.
More than 1,500 street pianos like the one in the GSU have been installed around the world, according to the Street Pianos website. It was started in 2008 by British artist Luke Jerram and came to Boston first in 2013. All 60 of Boston's pianos were decorated by local artists and community groups.
A-listers like Michael Bloomberg and Alicia Keys have praised the art project as a way to spread music to those who wouldn't be exposed to it otherwise. On the project's website, Keys is quoted as saying, "'Play Me, I'm Yours' created a beautiful and worthy moment for our city, by bringing the Street Pianos to our city's parks and public spaces.
"It brings people together who normally wouldn't be talking together," Davis said. "It's a nice chance for people to show up, talk, explore — even kids who come for … open houses and stuff, parents bring their kids. It's nice for them to walk by and hear video game music, Frozen, Disney."
Davis doesn't have a piano at home, so coming to the GSU provides him an opportunity to play the piano while people walk by.
"I don't own a piano at home, so the only way I could conceivably practice is if I stumbled up on them, and it was just really nice to have this here," he said.