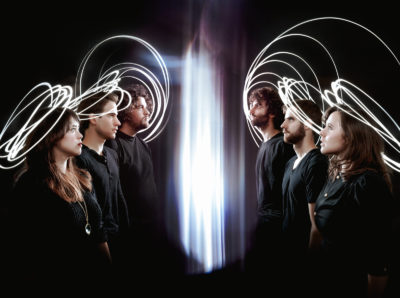 Bent Knee, a Boston-based band formed in 2009, tackles some big issues in their latest album, "Land Animal." Violinist Chris Baum says on the surface, the music is about humans' animalistic instincts that are overshadowed by technology — underneath this superficial communication, people have to deal with racism, political conflicts and social tension.
"The songs in this album tell very human stories including the struggle of the human condition," Baum said in an interview with The Daily Free Press.
"These Hands," the fifth song on "Land Animal," highlights the façade people put on to hide their true emotions, Baum said.
"If people are able to take some comfort in our music or create dialog with it, those are great things for us," drummer Gavin Wallace-Ailsworth says on the band's website.
Baum said that in today's political climate especially, it is important for people to have a platform to come together, and music is universal.
"It's one of the few moments in our lives where we're allowed to fully wrap ourselves around emotions and feel the same thing," he said.
Inspired by news articles and daily conversations, Baum said Bent Knee's lyrics are dedicated to not necessarily stating solutions to current concerns, but bringing such concerns out from the shadows in hopes of ameliorating the tension for future generations.
"There's inherent racism in this country, this city, and amongst our hyper-liberal college friends," he said. "There's implicit bias that exists in our society. You can't dig that far into your subconscious to remove it completely … We need to focus on how to use our knowledge or bias to prevent these constructs from becoming even more poisonous."
This six-member band started out as a group of "nerdy" Berklee College of Music students that enjoyed casually experimenting with each member's specialties. Although all the members come from different musical backgrounds, Baum said "alt-rock" is the best label for their sound, because assigning a genre can limit them.
According to the band's website, when they were starting out, lead singer and keyboardist Courtney Swain and violinist Baum shared a background in classical music; producer and live sound designer Vince Welch held onto an industrial style; drummer Wallace-Ailsworth embraced '70 and '80's rock; and bassist Jessica Kion adhered to the world of jazz.
Hints of each member's styles are apparent in their 2011 self-titled album and 2014's "Shiny Eyed Babies." "Land Animal" is their third album and just came out last year. Baum said the band members' lifestyles have kicked into high speed over the past four years — they usually practice between two times a week and every day from 9 a.m. to 5 p.m. before tours.
The band will be playing at Cambridge's Massasoit Elks Lodge on Friday with Bearstronaut and Roz and the Rice Cakes. Bent Knee met Bearstronaut, another Boston-based band, in Los Angeles; their sound centers around electric pop, disco and 1970s throwbacks.
In a feature in Paste Magazine, Bearstronaut was described as summoning "images of wild, bonfire-lit Miami beach parties, of sweating blissfully while packed onto the dance floor of some underground Barcelona club at 5 a.m."
All proceeds from the concert will be donated to the Boston Area Rape Crisis Center. Baum said the groups wanted to support victims after hearing so many sexual harassment and rape stories from inside the music industry, especially.
"We've all heard personal stories [concerning rape] at this point," Baum said. "This is the best way we know to make a difference and cause some sort of change. This event will help take this issue to a local level and help many to get over the hump of victimization."
The band is also collaborating with a percussion ensemble on March 24 at a Berklee residence hall as part of the Celebrity Series of Boston. The performance will feature the U.S. premiere of one of the band's new songs that Baum said goes nicely with the nine percussionists from Berklee.
"All of my favorite art has changed the way I look at the world," Baum said. "I'd like this to be an opportunity for people to hear something new."