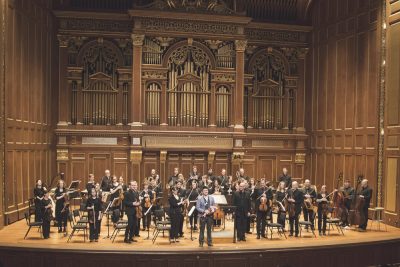 The silent hall is awoken by the clear notes of a flute. Delicate violin strings rise to join it, the suspense builds as the notes race along, and the music rises and falls in tone and rhythm. All the while, the audience sits alert, taking in the sound.
The Boston Modern Orchestra Project and New England Conservatory's Jordan Hall held a concert to honor Joan Tower on Friday. Tower has composed music for over five decades, and the concert celebrated her contributions to classical music and her upcoming 80th birthday later this year.
Two of Tower's songs selected for the concert were "Chamber Dance" and "Concerto for Flute." "Chamber Dance" combined a lightness and playfulness mixed with an intensity.
"One can't, however, just go up," Tower wrote about the piece, for BMOP. "There should be a counteracting action which is either going down or staying the same to provide a tension in the piece."
The piece included maracas, which Tower said were inspired by time spent in Bolivia.
"I was involved with the Inca festivals in Bolivia because my nurse was an Inca Indian," Tower recalled. "She would take me to these festivals, and she was young and beautiful and wanted to find a guy, so she would drop me at the bandstand and I … would play the maracas [and] castanets."
"Concerto for Flute" raced along, and the flute created a purity and simplicity. The audience seemed to hardly move.
"If I can engage the listener, then I think I've accomplished something," Tower said. "It's hard to keep a listener involved all the time."
After the piece concluded, an audience member said, "oh my God!" audible above the applause.
Ed Harsh, president and CEO of New Music USA, came from New York City to attend the concert and support Tower, who he first met 1981.
"She is a classically first-rate composer," Harsh said. "Everything she writes has a musical command. There's a clarity in the way she puts instruments together."
One of Tower's trademarks, he added, is the energy she brings into her compositions. Kati Agócs, a member of the New England Conservatory's composition faculty, also noted the energetic elements of Tower's work.
"She has a vital, direct, energetic style that is completely her own," Agócs wrote in an email. "The orchestral works that put her on the map in the early 1980s –– "Sequoia," "Silver Ladders" –– sound as fresh today as when she was writing them as a young composer."
Women's entrance into the field of classical music has been slow and long-fought, Tower said, but knowledge of the past made carving out her career less burdensome.
"It was a very important thing for me to know that history because it woke me up big time to where I am along that historical line, so that I don't have to feel so downtrodden," Tower said.
Gil Rose, founder and artistic director at BMOP, also spoke about the lack of women in the industry. Rose said that Tower, in a way, pioneered the path.
"Joan came through the ranks at a time when, unlike now when there's many prominent and succeeding women composers, Joan was really by herself," Rose said. "As far as American mainstream concert music, Joan sort of led the way."
In addition to composing, Tower has been on the faculty of Bard College since 1972.
"Joan Tower has led the way for many of us by her example as a masterful composer and by playing an influential role in the field, including advocating for other composers who may not have been heard otherwise," Agócs wrote.
Indeed, Tower said her work has allowed her to foster a very large musical family. She called it a "beautiful experience" to be able to walk with students through their musical training and provide them with lessons that will stay with them throughout their careers.
"My extended family," Tower said, and laughed.