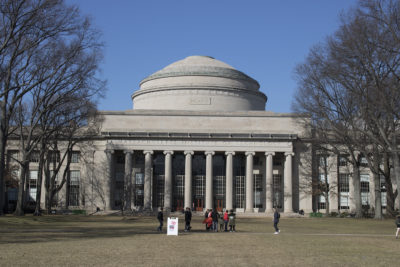 At the Massachusetts Institute of Technology, the future has a mind of its own: artificial intelligence.
AI has been both the dream of scientists and the protagonist of science-fiction novels. And MIT seeks to explore further into this phenomenon through their new project, Intelligence Quest.
Intelligence Quest seeks to "discover the foundations of human intelligence and drive the development of technological tools that can positively influence virtually every aspect of society," according to their website.
Announced earlier this month, the initiative is the latest research project from a university considered a pioneer in the field of technological advancement.
The project's origins lie in "the faculty's interest in two interrelated areas," said James DiCarlo, head of the Department of Brain and Cognitive Sciences at MIT.
"One area is, 'how are we going to replenish the well of AI algorithms?'" DiCarlo said. "The other, 'how do we apply current AI algorithms to improve all kinds of areas of work? From health care and chemistry to MIT and the world more broadly."
These questions make up Intelligence Quest's two halves. "The Core" is the "intersection of human and machine intelligence" while "The Bridge" will focus on trying to expand the impact of existing algorithms, DiCarlo said.
Chad Galts, the director of communications at MIT's School of Engineering, said Intelligence Quest's venture could result in deeper insight into human intelligence.
"Some of [Intelligence Quest's] advances may be foundational in nature, involving new insight into human intelligence, and new methods to allow machines to learn effectively," Galts wrote in an email. "Others may be practical tools for use in a wide array of research endeavors, such as disease diagnosis, drug discovery, materials and manufacturing design…"
In addition to the potential benefits of artificial intelligence advancements, there are often ethical conversations and concerns.
"Researchers at MIT always have a responsibility to think about the ethical implications of their work, and intelligence work comes with some very charged questions," Galts wrote. "There are real consequences to the decisions we make in the lab … and [MIT] must honestly consider if the work we can do is always the work that we should do."
Across the Charles, a competitor has entered the artificial intelligence ring.
The Boston University Artificial Intelligence Research initiative was launched in 2017 and has begun holding events this year, according to Margrit Betke, AIR faculty member and professor of computer science.
"[BU AIR] is bringing people from all over the world to BU through this initiative," she said.  "Universities always kind of compete but there's also cooperation when faculty work with each other … BU and the undergrads at MIT actually hang together and have joint talks."
For Betke, what is most important is that members of the BU community know what is going on in the artificial intelligence world. AI researchers, she said, often cluster in different pockets of big universities, without much collaboration.
Intelligence Quest, Galts wrote, will facilitate interdisciplinary collaboration that will lead to breakthroughs the field hasn't seen in decades.
"Many of the breakthroughs driving current artificial intelligence technologies are actually decades old. We're looking for the next great leap that will unlock innovations that today's entrepreneurs haven't even begun to dream about," Galts wrote.
Ultimately, DiCarlo said, Intelligence Quest aims to explore one of humankind's most fundamental questions.
"Understanding intelligence is the greatest question of humankind, and at MIT folks are excited about launching that effort," DiCarlo said. "We are looking for partners, industry, university, students or anyone who is interested in the quest would be welcome to join. And there's lots of ways to do that."