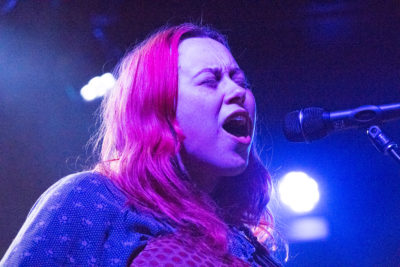 Watching Girlpool perform live feels like hanging out in your best friend's childhood bedroom, listening to music that is kind of strange but also funny, acting like total weirdos and ranting about everything that's ever made you mad. From Harmony Tividad's pink plastic watch to Cleo Tucker's raspy voice, their performance at the Paradise Rock Club on Friday felt like home.
Two opening bands set the scene for a comfortable night of heavy electric guitar interlaced with intimate whisper-singing. Forth Wanderers, a group of five who met in high school in New Jersey, seemed very comfortable on the Paradise stage, talking to each other and their friends in the audience between songs. Lead singer Ava Trilling's melancholy and hearty voice compliments low-fi guitar riffs and heavy drums perfectly, and the whole vibe felt very welcoming.
After Forth Wanderers was Land of Talk (also known as Elizabeth Powell), who performed all by herself. At the beginning of her set, she told the audience that she usually plays with a full band, which became painfully obvious as soon as she started playing. All she had with her was an electric guitar, and although she is a ridiculously talented singer and guitar player, Land of Talk's set sounded boring and empty without more instruments or at least a loop pedal.
The audience still seemed to enjoy the second set, and the whole room (which wasn't very big) buzzed after her performance in anticipation of the main act. As soon as Girlpool took the stage and started playing the opening chords to "123," the audience went wild. The cheers drowned out the beginning of the song, but by the time the drums started one minute in, it really felt like a rock concert.
One of the most impressive aspects of the show, in which the band mostly played songs from last year's album "Powerplant," was how duo switched so seamlessly from their trademark whisper-talking to what felt like a heavy metal concert, the two singers nearly screaming into the microphones and jumping around the stage.
A defining aspect of Girlpool's folk-punk-rock sound is their ability to transition from a solo whisper to a robust electric chorus within the same song, and this skill transferred beautifully into their live performance. Especially on songs like "Fast Dust," which is calm and muted on the recorded version, the drums really emphasized the build up to and payoff of a satisfyingly loud chorus. There is something special about seeing the musicians you have only listened to on cheap earbuds actually dancing along and moving their bodies to the thumping bass in real life.
Before "Powerplant," Girlpool didn't have a drummer: Cleo Tucker (guitar) and Harmony Tividad (bass) were the only ones on stage, just two best friends who liked playing music together. Although drummer Miles Wintner definitely adds depth to the band's sound, and they would not have been able to play songs from the new album without a drummer, it was still off-putting to go to a Girlpool concert and see a male drummer on stage next to the original duo, who have been making music together since high school.
After a quick 45-minute set, the band took a short break and then came back out for the encore. This time, however, just Tucker and Tividad, in their comfortable cargo pants and thrifted shirts, came on stage. The two friends radiated joy not only in their performance of "Chinatown," one of the most popular songs from their second album, but also in their banter. Tucker talked about how she had lost her voice, and the audience cheered her on anyway when her voice cracked in the middle of a solo. Tividad was too busy jamming out on the bass that she forgot to start singing her verse at one point, and the two of them seemed to be having the time of their lives on stage.
Even though the addition of drums definitely added depth and originality to "Powerplant," what makes Girlpool a one-of-a-kind group is their obvious friendship and the powerful, raw quality in Tucker and Tividad's voices that really shines when the only backing instruments are guitar and bass.
The duo's first two albums, "Girlpool" (2014) and "Before the World Was Big" (2015), emphasize the quality of the vocals, which seem almost ethereal and definitely not serious. When the drums come in on "Powerplant," the music becomes much more real and the band loses a bit of the innocence they had before.
The heavy percussion does make for a fantastic live show, however, which is probably more exciting and energizing than if there were only two people on stage. That's why the encore felt so sweet: because after 45 minutes of amazing energy, seeing two best friends sing one of their favorite songs together was healing and wholesome.