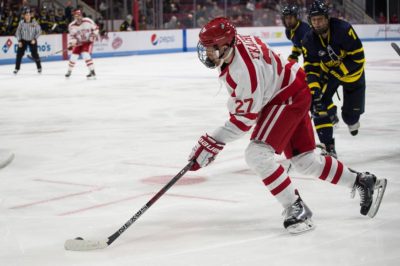 Following Friday night's heartbreaking 5-4 loss in overtime to the University of Connecticut, the No. 20 Boston University men's hockey team traveled to North Andover in search of sweeping the season series against Merrimack College and to snap a three game winless-streak.
"Last night's loss was a devastating loss in so many ways," BU (16-13-3, 11-8-3 Hockey East) head coach David Quinn said. "But even up 4-2 we kind of felt like we were cheating the game and it was inevitable what happened last night the way we were playing."
Off the strength of a two goal second period, the Terriers beat the Warriors (9-18-4, 6-14-2 Hockey East) 3-1 and snapped a three game winless streak.
These two Hockey East rivals played at Lawler rink on Jan. 19 with the Terriers beating the Warriors 4-3 thanks to a hat-trick from sophomore defenseman Dante Fabbro.
Although no scoring took place in the first period seven penalties took place over the first 20 minutes of action. Including a five minute major for senior defenseman and captan Brandon Hickey for boarding 6:31 into the opening frame.
Quinn said that killing the major really set the tone for the game.
"We've kind of been fragile on the penalty kill hasn't been our friend throughout the season," Quinn said. "Last night we give up two [goals] on two shots. To kill it and the way we killed it I thought really gave us momentum and gave us some confidence … That really to me really set the tone and gave our guys a lot of confidence and put us in a good mindset."
Neither team managed to convert their power play chances into goals as BU could not find the back of the net on their only chance in the period and Merrimack went 0-2.
However, the Terriers made sure that the game did not go a full 40 minutes without one team finding paydirt.
While on a power play, Fabbro connected on a pass from freshman forward Shane Bowers by way of freshman forward Brady Tkachuk and rifled a shot from the point which beat Warriors' junior goaltender Craig Pantano for his ninth goal of the season at 14:22 to give the Terrier a 1-0 lead.
The Terriers entered Saturday's game with the eighth best power play in the country, converting on 23.39 percent of their chances with the man advantage. They have scored at least one power play goal in nine out of their last 10 contests.
However, the score would not remain that way for long.
Just under three minutes later, the Terriers doubled their lead. Sophomore forward Gabriel Chabot found the back of the net for the first time this season. Freshman forward David Farrance and sophomore defenseman Chad Krys added assists.
With his defenseman scoring three points tonight, Quinn said that having offense come from defenseman is needed to play winning hockey.
"In this day and age getting offense from your defensemen is pivotal if you're going to have success offensively. You've got to have five guys involved offensively, " Quinn said. " … Fabs is obviously a guy who produces goals and Hickey scored some goals and Chad's got goals so we've got to continue to be productive on that offensive blue line."
Quinn added that he likes Farrance up front as opposed to on the back end.
"[With] the situation we're in without [junior forward and assistant captain Jordan] Greenway and [sophomore forward Patrick] Harper I just want to dress our 18 best players and he's one of them," Quinn said. "He's a hockey player and he's one of those guys who can go up front and play and do well … That was a heck of a play he made and that's why he's up front."
However, the Warriors did not go down without a fight.
Senior forward Alfred Larsson won the faceoff in BU's zone and sent the puck to freshman forward Simon Lööf who fired a wrist shot from the point for his first collegiate goal with 17:38 to play in the final stanza.
The Terriers answered back.
Freshman forward Logan Cockerill finished off tic-tac-toe passing from Hickey and graduate transfer forward Drew Melanson to give BU a 3-1 lead with 9:09 left to play.
Despite starting the season slowly, Cockerill has been hot as of late and now both Fabbro and Cockerill have scored points in eight straight games this season.
"I think when you take a jump to the next level it's always difficult there's kind of an adjustment period," Cockerill said. "The second half coach has been giving me a lot of opportunity [to] get on the power play a little bit more [and I'm playing] with unbelievable players like Bowers, Tkachuk [and freshman forward Hank Crone] … I've gotten a little more comfortable [and] been finding ways to utilize my skills set and been able to get some production."
The Terriers will return to action Friday as they take on the University of Vermont in their final two regular season tilts.
Quinn mentioned that winning this game heading into next weekend's matchup is important.
"It's huge, you look at the standings and we want to get a bye and we want to be home," Quinn said.