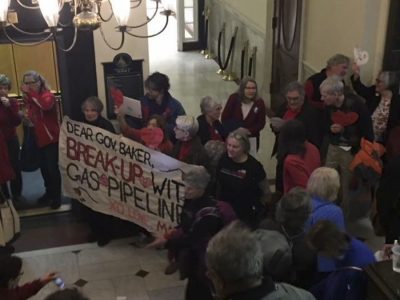 Around 100 people swarmed the State House on Feb. 14 decked out in red to celebrate Valentine's Day by delivering cards to the governor. The handmade cards asked Charlie Baker to break up with non-renewable energy.
The group consisted of volunteers from a range of organizations, united under the 350 Mass for a Better Future coalition, which organizes over 150 groups so that they can approach legislators and other politicians with a united voice supported by many individuals.
Organizations behind Wednesday's lobby include: Elders Climate Action Massachusetts Chapter, Mothers Out Front, Mass Power Forward, Clean Water Action Massachusetts, Mass Sierra Club, Toxics Action Center, Massachusetts Climate Action Network and League of Women Voters of Massachusetts.
This was the first lobby the coalition has held on Valentine's Day. As the state senate approaches the end of its session in July, the coalition is increasing pressure to pass several initiatives.
Currently 350 Mass is working on stopping a pipeline tax, expanding solar energy, incentivizing companies to fix gas leaks faster by taking the pressure off of consumers, demanding increased production of energy from renewable sources and putting a price on carbon pollution.
Claire Miller, lead communications organizer and climate justice director for Toxics Action Center, said she believes the style of the coalition is unique to Massachusetts and has been very effective so far.
"Legislators need to continue to hear from the constituents about what they want and we want to try to continue to put pressure on Governor Baker until he takes gas off the table," Miller said. "The Senate and legislators have been grateful that we have sought consensus among ourselves before coming into them. As the expression goes, 'Where the people lead, the leaders follow.'"
Edith Buhs, 49, who volunteers with Mothers Out Front and attended the lobby day, said legislators have expressed gratitude for the unified voice.
"It makes our job easier when you speak with one voice. I think that's powerful," Buhs said.
Joel Wool, a clean energy advocate at Clean Water Action Massachusetts, said passers-by seemed amused and pleased with the lobbying on Wednesday.
"Seeing the clean energy advocates dressed in red and delivering hearts to the governor, there's a little bit of comedy, and a little bit of people being impressed at the number of people had turned up given fairly short notice," Wool said.
In addition to visiting the governor's office, lobbyists spent the day listening to various leaders from the organizations speak and learned about effective ways to lobby that reaches the legislators and other politicians. They remained in the State House from 10 a.m. to 3 p.m.
Wool said volunteers from a range of organizations that didn't necessarily focus on climate change united in order to protect their shared home.
"It's a little bit of a joke but it's also quite serious," Wool said. "So we're saying we're showing the love for clean energy because ultimately when you're fighting for clean energy and fighting climate change, you're fighting to protect your home and we're asking legislators to protect what we love."
One initiative includes increasing equity in communities by decreasing the environmental issues lower income areas suffer because they may be overlooked.
"No person because of their race, their income, the language they speak has to suffer poor health outcomes that they had no control over or responsibility for," Wool said.
Buhs said the day also increased the sense of community among lobbyists. Because they volunteered for many different organizations, the volunteers wouldn't typically meet each other. But this Valentine's Day, many formed connections.
"In something like a lobby day, what's exciting about it is it's not just meeting other people who have similar values and goals," Buhs said. "You're meeting neighbors because you're meeting around as constituents of the same elected officials, which I think makes it even more meaningful."