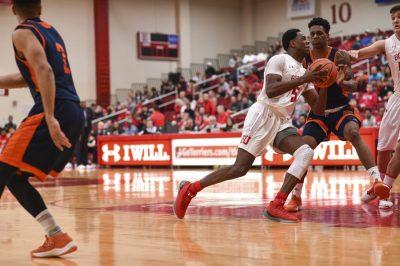 The Boston University men's basketball team will host Lafayette College at Case Gym Wednesday night. In the last home game of the regular season, the Terriers (12-15, 8-8 Patriot League) will attempt to win their first game in three weeks.
Player injuries and team shortcomings have compounded into a five-game losing streak for BU that has dropped them to the fifth in Patriot League standings.
This season, the Terriers have been dealt with a seemingly endless stream of injuries, including leading-scorer senior guard Cedric Hankerson, senior forward Nick Havener and currently freshman forward Walter Whyte who has been out for four games.
With players rotating in and out, the BU lineup has struggled to find chemistry and a consistent strategy for offense and defense.
However, such difficulties cannot explain the team's recent subpar performance. The Terriers have not shot over 50 percent from the field in eight games, and have averaged turnovers in the double digits for a majority of the season.
For BU, its upcoming game against Lafayette (9-18, 7-9 Patriot League) holds some promise. The Leopards have performed poorly on the road this season, only winning two of 11 away games.
But Lafayette has some weapons that could surprise the Terriers, and that is something BU head coach Joe Jones remains aware of.
"They are an underrated team," Jones said. "Lafayette can shoot, score and dribble easily. Their freshman guard is a very, very good player. He can beat you off the bounce and can do so many different things."
Yet, in order to right the ship, the Terriers will need to reshape their defensive strategy to suppress scoring in the post. They have been outscored in the paint by a margin of 10 points or more for two of their past three games.
This is likely due to BU's "trapping" strategy on defense. The Terriers frequently try to stifle their opponents' offensive development by double-teaming their guards. Eventually though, those guards outmaneuver the pressure by feeding their centers in the paint, whom BU fail to contain.
Lafayette's 6-foot-8 senior forward Matt Klinewski will likely be that threat in the paint the Terriers will have to control.
"Klinewski can hurt you inside," Jones said. "We put Walt[er Whyte] on him in the first matchup and he did a nice job. [This time] we are going to have to force him to take contested shots."
Klinewski also leads the team in scoring with 16.8 points per game and is averaging 5.7 rebounds per game.
Freshman guards Alex Petrie and Justin Jaworski are also shooting double digits with 15.6 and 10.5 points per game, respectively.
BU will also need to find solutions on the other side of the court.
Much of their offense is predicated on perimeter passing, with little penetration of the lane. Such play is, in some manner, a conservative response to the zone defense in college basketball. Still, the strategy often results in wasted possessions or careless turnovers.
The Terriers were recently limited to a season-low 48 points over the weekend against the United States Naval Academy after putting up only 56 against American University.
"We have struggled to score [recently]," Jones said. "I have to do a better job of putting them in a position to score."
Additionally, BU has struggled at the free-throw line, unable to shoot more than 70 percent from the line for most of the season, while Lafayette is strong behind the charity stripe at 77.5 percent.
While other factors of play are presumably under greater scrutiny, free-throw line shooting will remain important as conference play comes to a close.
In the Terriers' 60-56 loss to American (6-21, 3-13 Patriot League), they shot only 57.1 percent from the line, going 12-for-21. If BU had made just five of the free throws it had missed, the team would have won the game.
The Terriers will also be traveling on the road to face the United States Military Academy this Saturday for its final game of the regular season. Army (13-14, 6-10 Patriot League) is currently near the bottom of league standings and in the middle of a four-game losing streak before facing off against Colgate University Wednesday night.
Having beaten both Lafayette and Army earlier in the season, the Terriers will be looking for their first regular season sweep of a conference opponent.
Jones remains optimistic and is confident that his team will now progress upwards late into the season.
"We'll get better as the season goes on," Jones said. "…We have very good players. We have been a very good zone team, but we've struggled lately."