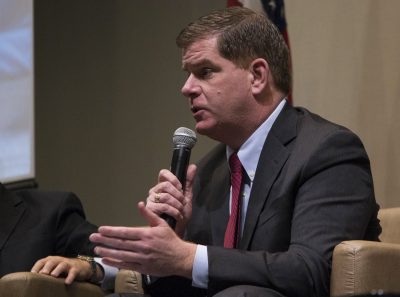 A new city-led initiative with plans to place 20,000 unemployed or underemployed city residents in living-wage jobs by 2022 launched Sunday.
Boston Mayor Martin Walsh announced the city-led effort — BostonHires — during his inaugural address on Jan. 1. Organizations are currently joining the campaign to secure both sustainable futures for Boston residents and a supportable future for Boston's economy.
Boston's living wage is currently $14.41 for one adult, while the current minimum wage in the state of Massachusetts is $11 an hour.
Trinh Nguyen, the director for the Mayor's Office of Workforce Development, said she and her team launched BostonHires after more than a year's worth of analysis.
"We wanted to come up with something realistic and feasible to make sure that Bostonians have good job choices," Nguyen said. "A year and a half of research including labor assessments, surveying focus groups and collaborating with a workforce career development expert created a vision from which BostonHires was born."
Nguyen said residents often need direction from the city concerning the job market.
"The ecosystem and the workforce system is hard to navigate," Nguyen said. "Having resources and partners on the ground with direct contact to employers helps a great deal."
The campaign was motivated by an overarching disparity between minimum wage jobs and living wage jobs with employee-sponsored benefits, Nguyen said. The city's living wage can be recalculated if the current minimum wage bill, now proposed to be $15 an hour, passes in the state.
Garrett Carrier, 25, of Roxbury, said he believes the state is obligated to help struggling residents find work.
"It's good to at least set a plan to help these families out because so much of Boston is made up of low-income neighborhoods," Carrier said. "If it's giving these people a chance to financial long-term security and good careers, then it's a good step for the city."
Mary Vogel, the executive director for Building Pathways, a non-profit organization that forges opportunities for low-income area residents to work in the construction industry, said their company chose to participate in the BostonHires program because they have a mission of providing innovative jobs for underprivileged residents.
"Folks that get access to these careers should represent the communities in which the projects take place," Vogel said. "We want to have an impact in ensuring that Boston residents are getting hired for these career opportunities."
Vogel said the construction industry is currently dominated by white males, a trend that needs to change.
"The City of Boston itself has some hiring goals for women and people of color, and the state has those hiring goals as well," Vogel said. "Folks that get access to these careers should represent the communities in which the projects take place."
Mike Rakvica, 25, of Brighton, said while the City of Boston has made several attempts to create more jobs for underprivileged workers over the past several years, he hasn't seen any noticeable changes.
"I've been working for a while but I haven't seen any difference in the working world," Rakvica said. "There doesn't seem to me that there are any more or less jobs out there."
Joanne Hilferty, president and CEO of Morgan Memorial Goodwill Industries, said in a statement that their one-stop career center is excited to partner with the City of Boston to advance the BostonHires campaign.
"Our mantra is jobs, jobs, jobs," Hilferty said. "Every day, we help Boston residents achieve the independence and dignity that come from good jobs. We connect employers in need of workers with qualified job-seekers."
According to the press release, BostonHires distinguishes its placement providers with two titles, "Champion" and "Advocate." Though both labels hold that the organization will place unemployed or underemployed Boston residents in jobs that pay at least Boston's living wage, Champions also pledge that at least half of the jobs secured will offer employer-sponsored benefits.
BostonHires has already partnered with nine champions and six advocates, Nguyen said.
Emily Lowry, 25, of Brighton, said though she is pleased with the City's goal, she is worried about other effects it could have on the state.
"I can imagine that people are generally happy with [the initiative]," Lowry said. "The one thing people may not like is how it would affect taxes."
Nguyen said it's too early to assess the results of the campaign, but the Office of Workforce Development is optimistic about its success.
"Change takes time— we know it will," Nguyen said. "We just have to keep working for our communities."