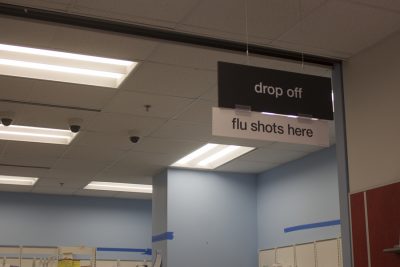 U.S. Sen. Ed Markey introduced the Flu Vaccine Act Thursday, a bill that supports comprehensive research to create a universal flu vaccine — a total investment of $1 billion over five years.
The hypothetical vaccine could be administered once or twice and provide protection for the rest of an individual's life, according to a press release from Markey's office. The investment would start in 2019 and be carried out through the end of the 2023 fiscal year, with $200 million given to research every year.
This winter, the United States saw an increase in hospitalizations and deaths due to influenza, spreading concerns among Bostonians. The country has already seen 63 pediatric deaths, according to the release.
Experts believe this is in part due to reduced effectiveness of the vaccine created for the 2017-2018 flu season. The current flu shot is only 60 percent effective at best, with some evaluations marking it as low as 10 percent operative.
Paul Auwaerter, president of the Infectious Diseases Society of America, said each year scientists try to anticipate the virus that will circulate and build a concurrent vaccine, though predictions didn't go according to plan this year.
"Although the [vaccine] was a match for the circulating virus, there were some problems with the production," Auwaerter said. "The virus probably mutated during production, so the match is working at best about 36 percent [of the time], according to CDC estimates."
Wendy Parmet, professor of health law, public policy and urban affairs at Northeastern University, said seasonal flu vaccines often struggle to provide effective protection because the process requires a lot of time to develop.
"There have been significant advances, but we're always guesstimating or playing catch up," Parmet said. "The determination of what should be in the vaccine is made quite some time before the flu starts circulating in the community. The more likely the flu mutates, different strands come in, and what you end up with is situations like this year where they didn't get it quite right and the vaccine isn't as efficacious as we would hope."
Russell Baldwin, 71, of the South End, said a disastrous flu wave hasn't occurred in years.
"There was the 1990 influenza epidemic and people died like crazy," Baldwin said. "I didn't realize people still got the flu."
Supporters of the bill, including seven other state senators throughout the country, hope to circumvent these issues through development of the Universal Influenza Vaccine. It would protect against almost all strains of the flu and provide longer-term protection.
Seasonal influenza costs the nation up to $87 billion as an indirect consequence of people falling ill, and overall, the flu costs the nation $10.4 billion in medical bills each year.
Auwaerter said the investment, though slight, will still be effective.
"People miss work, children miss school, people have to stay home, so there's a lot of collateral economic impact even if people are just routinely ill, not seriously ill," Auwaerter said. "The [$]200 million per year is a small investment to try to drive [development]. A billion dollars is less than an aircraft carrier."
Parmet said though the benefits of a universal influenza vaccine are clear, very little is known about the effect its development will have in the health care field.
"One of the things we're seeing now is new drugs and new vaccines are extremely expensive," Parmet said. "[Will] the provision of the [Affordable Care Act] that requires vaccines to be covered without cost sharing still be in place a year from now? If [health care providers] weren't required by law, [would they] find it economical to cover it?"
Parmet said though much is unclear, change is healthy and much needed.
"Years ago, there were other diseases that were considered facts of life," Parmet said. "Polio would come and ravage communities and children every summer. We have an effective vaccine, and we don't worry about kids in the summer anymore. Imagine life without influenza, [if] your annoying winter disease was a cold but not a flu."
Mac Brzakala, 29, of Brighton, said he didn't recognize the importance of protecting against the possibly fatal virus.
"I don't schedule it every year," Brzakala said. "If I have a chance to do it, then I'll do it."
Marla Daniels, 68, of Brighton, said a universal flu vaccine is an extraordinary development in health care coverage.
"It's a worthy research project because in the end, if we could eradicate the flu, many people would benefit, especially the elderly and those with chronic illnesses," Daniels said.
Markey sent an addition letter Thursday to the Secretary of Health and Human Services with questions regarding the way in which their department is arranging for and reacting to this year's flu-related illness data.
Jordan Kimmel contributed to the reporting of this article.