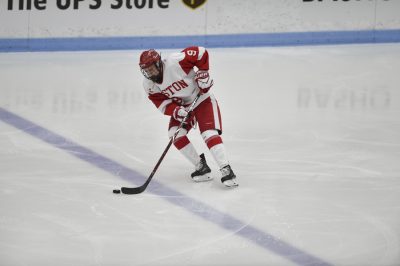 After ending the 2017-18 regular season with a sweep over the University of New Hampshire, the Boston University women's hockey team looks toward a best-of-three quarterfinals matchup against the University of Maine, beginning on Friday.
The Terriers (13-15-6, 8-11-5 Hockey East) ultimately finished the season ranked sixth in Hockey East.
"We've had some trouble getting over the hurdles this year," BU head coach Brian Durocher said. "But I commend the kids for coming back, sticking together and putting themselves in a position to win."
In a season that has been wrought with numerous ups and downs, the concluding series was an uplifting end to the Terriers' regular season, providing hope for the games to come. BU bested UNH (14-13-7, 9-10-5 Hockey East) 2-1 and 2-0 in a home-and-home series last weekend.
The Terriers' first-round opponent, Maine (17-12-5, 11-9-4 Hockey East), ended its season on a downswing, with only one win its final nine games.
Nonetheless, the higher standing of the Black Bears, in third place, will give them home-ice advantage for the entire series.
Last week's series against the Wildcats saw familiar faces, such as senior forwards Rebecca Leslie and Victoria Bach, add to their tally of goals.
In Saturday's matchup, Leslie added two more goals to her total, which were both assisted by sophomore defenseman Abby Cook. Leslie has now clocked in 21 goals for the regular season and continues to lead the team in assists with 30.
Bach, who holds BU's program record in total goals and leads the NCAA in goals per game (1.20), also found the back of the net in Sunday's game, adding another goal to her now 36 total goals for the season.
Also putting points up on the board last week was freshman forward Kristina Schuler, who fired one between the posts. The goal was her third of the season, as she also scored in the Terriers' previous outing against UNH and against Northeastern University.
On the other side of the rink, Cook's contributions can also not be overlooked.
Despite seldom being in a scoring position, Cook has provided BU's offense with 23 assists over the course of the regular season, a number only beaten by Bach (25) and Leslie (30).
Cook is tied for the lead in assists among defensemen in the nation, making her not just a force to be reckoned with on defense, but on offense as well.
"Reagan Rust, Abbey Stanley and Cook have certainly been leaders back there," Durocher said, complimenting the defense as a whole. "Not everyone's job is to be a pure point producer, and these people have had a real run for the last 10 to 12 games."
In between the pipes for the second game of the series was senior goaltender and assistant captain Erin O'Neil.
Although not in the limelight as often as her fellow goaltender freshman Corinne Schroeder, O'Neil got an opportunity to prove herself on Sunday, making 32 saves and letting no shots in.
This marked the senior's third shutout of her career and first of the season.
O'Neil ended the regular season with a goal save percentage of .916 and goals against average of 2.81 over 11 games.
As for the Black Bears, sophomore forward Tereza Vanisova stands out. Vanisova's 13 recorded goals make her the team's leading scorer and her team-high 26 assists give her 39 points.
Senior forward Brooke Stacey is second on the team with 25 points, consisting of 10 goals and 25 assists.
Also of note for Maine is its starting sophomore goaltender Carly Jackson, who sports a goal save percentage of .927 and goals against average of 1.88.
Durocher noted the importance of his team staying consistent in all facets of the game come Friday afternoon.
"We've been doing good on defense, good on the penalty kill and we just have to keep that consistency," Durocher said. "Every little thing matters in the playoffs."