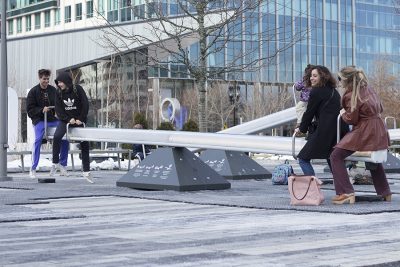 By Archelle Thelemaque
Just steps from the Institute of Contemporary Art in Boston's Seaport district, ringing tones echo throughout the air and bright lights gleam. As visitors approach, they see an installation composed of a bunch of LED-lit, sound-producing seesaws.
Friday, the "Impulse" art installation made its debut in the Seaport Common, located in South Boston. The installation features 15 illuminated seesaws that emit sound when users hop on.
"Impulse" combines both light and sound to create a unique play space, said Lola Sheppard, who was part of the development team for the installation. In order to make the lights brighter and sounds louder, visitors must physically interact with the seesaws.
"There's this kind of pulsation of sound that ebbs and flows according to how users are activating [the seesaws]," Sheppard said.
The sounds emitted by the seesaw were created by Toronto-based composer Mitchell Akiyama. All the seesaws are equipped with the same ability to make sound, but the volume depends on the user. As a result, the "Impulse" installation becomes a landscape of scattered ringing creating unconventional sounds of music.
"When you get different people on it, they will kind of be in and out of [sync] with each other depending on [the] person rocking it," Sheppard said.
She said the installation was created as an innovative way to transform public space and bring people outdoors when temperatures drop.
"I think the fact that it requires physical motion makes it something that makes it work well in the winter," Sheppard said.
The project, which Sheppard refers to as an "urban instrument," was originally designed for placement in Montreal and has since toured all over the world.
"It was a design competition about how public space is used in the winter time, how one could think about the role of sound and light in public space," Sheppard said.
And although "Impulse" operates during day, the real magic happens at night. Sheppard said public spaces tend to fall asleep at night and that "Impulse" is one way to keep the Seaport district awake after dark.
"It is so interactive and engaging, and in some ways is more evocative and more powerful at night," she said.
Jessica Feroli, marketing manager for WS Development's Seaport branch, said that developing "Impulse" appealed to the firm because it was uniquely suited to attract crowds to the up-and-coming Boston neighborhood. The Seaport district is quickly developing a major art scene and becoming "a new hub spot of the city," she said.
"The installation is somewhat of a mix of art and architecture," Feroli said. "It fits in pretty well with everything that's going on in Seaport."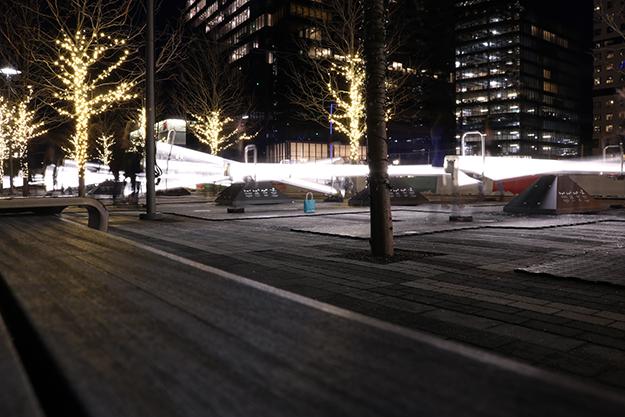 Sheppard said its placement near the Institute of Contemporary Art is perfect to attract an art-minded audience and passersby.
"We're particularly excited to be so near the ICA, which I think is an amazing building and amazing institution in terms of thinking innovatively about architecture and technology and art and how they intersect," she said. "It's a particularly gratuitous place to have it installed."
Not only does "Impulse" fit with Seaport's aesthetic but also, Feroli said, the installation is "another reason to bring people down to the neighborhood," and to get people outside when they normally wouldn't be playing outside.
Getting outside during the winter can be a challenge due to seasonal mood disorders that develop from little exposure to light. Feroli said "Impulse" has therapeutic elements that help combat these winter blues.
"There are proven facts that LED light boosts your mood and your overall happiness," she said.
Montreal-based firm CS Design did the installation's lighting design, and they collaborated with EGP Group and Lateral Office to create a user-friendly experience that could be used as an interactive play space for all, Feroli said.
"Everyone has a memory of being on a playground as a kid," she said. "It's something that brings together people of all ages … little kids were running up to it, and young adults coming out of work. It's an adult playground."
While some visitors liked the family-friendly aspect of the installation, others said they enjoyed the whimsical nature of the lit-up seesaws. Alice Li, a freshman at Bates College, tried the seesaws for the first time on Monday.
"You fly when you get to the top, and it makes music," she said.
"Impulse" is located at the Seaport Common (85 Northern Ave.) and is now open daily from 10 a.m. to 9 p.m. until April 8. The installation is free to visit, family-friendly, and is built to withstand snow and extreme weather conditions.