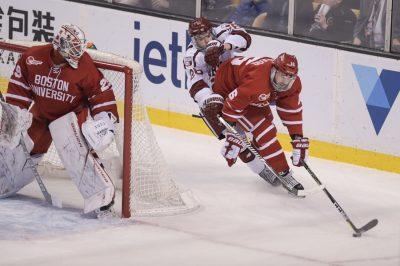 As the final weekend of the regular season approaches, the Boston University men's hockey team is set to take on the University of Vermont, and has hopes of securing home ice throughout the upcoming Hockey East playoffs.
However, for seniors forwards Chase Phelps and assistant captain Nikolas Olsson; defensemen Brien Diffley, John MacLeod and captain Brandon Hickey and graduate transfer forward Drew Melanson, Saturday could mark the final time they will play at Agganis Arena for the Terriers (16-13-3, 11-8-3 Hockey East).
The seniors will be honored Saturday for the annual Senior Night.
"The senior class means an awful lot to our program," BU head coach David Quinn said. "They've been through a lot. They've been to three straight national tournaments. They were a goal short of winning a national championship in their freshman year … So there's a lot that they've experienced and they've certainly been the foundation of a lot of good hockey that we've played and we're going to miss them."
Currently, the Terriers sit fourth in the conference with 25 points and have clinched a first-round bye in the Hockey East Tournament.
If BU manages to get one more point than the University Maine this weekend, it will be the fourth seed and will host the quarterfinals against either Maine (16-12-4, 10-9-3 Hockey East), the University of Connecticut or the University of Massachusetts Lowell.
In the event that BU and Maine are tied in points at the end of the weekend, the Black Bears will host the Terriers in the quarterfinals due to having the tiebreaker.
Lately, there have been positive signs for BU.
The Terriers ended a three-game winless streak Saturday night against Merrimack College.
Despite allowing two goals on two shots Friday against UConn, Quinn added that he liked his team's penalty kill, especially against Merrimack (9-18-4, 6-14-2 Hockey East).
"The thing I liked about the Merrimack kills [was] the time of it [and] the way we killed it," Quinn said. "Not only were we successful killing it, but I think we gained momentum from it. I thought we might have demoralized them a little bit, especially [after] that five minute major … I think that's going to give us confidence hopefully going into this weekend."
Sophomore defenseman Dante Fabbro and freshman forward Logan Cockerill both tallied goals in the 3-1 victory, extending each of their point streaks to eight games.
Fabbro is now the second leading defenseman in the Hockey East. The New Westminster, British Columbia native trails Northeastern University sophomore Jeremy Davies who has 28 points, two more than Fabbro.
Cockerill has found the back of the net three times in the past five games, which equals the New York Islanders prospect's total over his first 26 contests.
The Terriers have come to expect production from their freshmen this season.
Forward Shane Bowers leads the way for BU freshmen with 26 points, just one more than freshman forward Brady Tkachuk.
Bowers also finds himself second in the country in goals among freshmen with 16, a single goal behind Michigan State University forward Mitchell Lewandowski.
As a team, the Terriers' offense sits second in the conference, averaging 3.19 goals per game.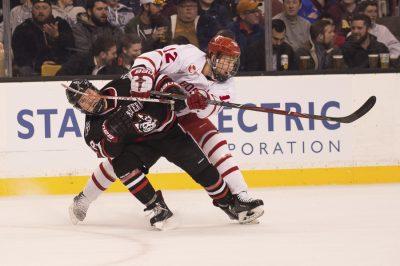 The high-powered BU offense could provide problems for Vermont's (9-17-6, 6-11-5 Hockey East) defense. The Catamounts sit second to last in the conference, allowing 3.06 goals per game.
However, Quinn noted that Vermont will come into the series playing its best hockey of the season.
"They we're on a seven-game unbeaten streak before two tough games against Northeastern," Quinn said. "We've seen that movie before. This team is fighting for home ice … They've given everyone tough games."
Catamount sophomore goaltender Stefanos Lekkas' 2.88 goals against average and .912 goal save percentage put him 10th and eighth in the conference, respectively.
His netminding counterpart, sophomore Jake Oettinger, finds himself last in save percentage with .907 and eighth in goals against average with 2.64.
Oettinger will be tasked with stopping Vermont's offense, which averages 2.22 goals a game.
Vermont is paced by sophomore forward Ross Colton, who has 21 points on the season.
After missing the last four games for the Winter Olympics, BU is expected to get back junior forward and assistant captain Jordan Greenway. Greenway lit the lamp once for Team USA over five contests.
However, not returning to the lineup is sophomore forward Patrick Harper. Harper has been out due to illness and has not played since Jan. 6.
A victory this weekend will mark a milestone for Quinn.
He enters this weekend sitting at 99 victories while head coach of the Terriers, and getting to 100 is something he feels is significant, not necessarily in and of itself, but because of what it would mean for the team's season.
"It'll be important because it's important to our season, it's important to our standings and it's to where we're at," Quinn said. "It means BU let me coach here for a few years, that's all it means … I just feel fortunate that I've been able to stay here long enough to put ourselves in [a] position to win that many games."