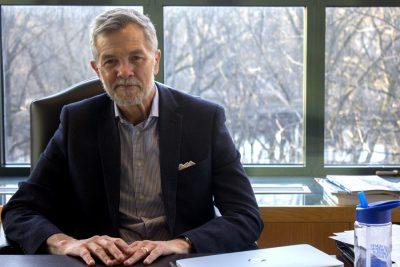 With less than four months to go before Wheelock College officially merges with Boston University, many students have questions and concerns about the implications of the transition and what the two schools are doing behind the scenes throughout the process.
The Daily Free Press sat down with Wheelock President David Chard this week to talk about the struggles and successes of the transition so far, as well as his vision for the new Wheelock College of Education and Human Development.
DFP: What were your thoughts when you began to realize the merger was going to happen and have those thoughts changed at all?
DC: There were a lot of sleepless nights, to be honest. With a college that's 130 years old, you're not sure you want to be the president who causes this kind of change to happen. We are financially healthy today. In two years, we wouldn't be financially healthy, and so I knew that a decision made sooner rather than later would benefit the college in the end … I think BU's proposal and my subsequent conversations with the president gave me confidence that it was the right decision. Honestly, BU has done nothing except prove over and over and over again that that was the right thing to do …
DFP: How do you hope to integrate yourself and Wheelock students into the BU community?
DC: I think it's already started. BU hosted [Transition Information Day] on the 27th of January. I think it was a really nice welcome for our students into BU … We're also trying hard to encourage our student government to reach out to student groups at BU and begin to forge relationships there. [We're] trying to bring faculties together for social events so that they get to know one another as well … Between now and [the merger] we really have to make an intentional effort … to get individuals talking and engaging with one another.
DFP: What does the end of Wheelock as an independent institution mean to you and to the Wheelock community?
DC: It's a very poignant time for us on campus … We're celebrating our 130th anniversary and focusing on the impact of the college … I think people are trying to remain hopeful about the future … And at the same time there's, not surprisingly, tremendous sadness about the closing of the college as an independent institution. I think the real challenge is how to be appropriately mournful, but also excited about what we can accomplish as part of Boston University.
DFP: What are some of the characteristics of the two institutions that you think make them compatible for a merger?
DC: We both have long histories of working closely with Boston schools and nonprofit agencies around improving school outcomes for children and working with families to ensure that their children's lives were as productive and fruitful as possible … I think we both have … a focus on social justice … of wanting to improve the community through education. I think those are both critical foundations of what we've started.
DFP: How have students reacted to the announcement of the merger and to the beginning of the transition process so far?
DC: I would say the initial reaction from our students was one of shock … Initially they wanted this to be a good thing and they were committed to it being a good thing. I think over time, with some of the realities that came with the planning of the transition, there have been some things that have angered some students, but with … retuning to BU to get assurances around some of those [things], a lot of that anger has subsided. If they had their choice, [it] probably wouldn't be to merge, but I think many of our students are trying to see the silver lining in this.
DFP: What have the administrations of both institutions done to appease students' concerns? Do you think it's enough?
DC: Both administrations have worked really hard to establish as many options as possible for students to complete their degrees. BU has agreed to not raise Wheelock tuition beyond the normal inflationary increases … We've also made ourselves very available to talk to parents … and what we still have to do, of course, is individual advising …
DFP: The student bodies of the two institutions are very different in terms of size and demographics. What do you know about any preconceived notions BU students have of Wheelock students and vice versa?
DC: I've read … about BU students claiming that Wheelock students don't deserve BU degrees … I think Wheelock's [students'] assumptions about BU students is that they're elitist and uncaring and don't understand our mission … I think probably … there's an element of truth on both sides, but what I think our students have begun to understand … is that we have a lot of common interests … The closer we can get students to each other … the less concern there is about differences, and we find that we're actually much more alike than we are different.
DFP: What are you most worried about going into the merger and what are you most confident about?
DC: Probably one of my biggest worries is the ongoing relationship between the college[s] and the [alumni] because [they] are going to see their connection to their time change. Somehow, I've got to figure out how to make them see this new college as an interest to them so that they'll continue to be engaged … [But] if history tells you what's going to happen in the future, the way we've been treated by BU up until now says that everyone's going to be working hard to make this a smooth transition and I suspect that that will continue in the future.