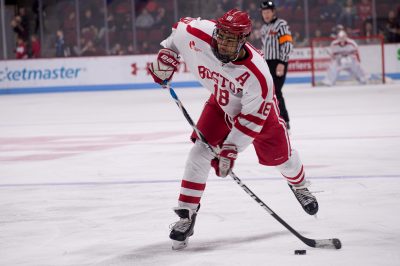 When Boston University junior forward and assistant captain Jordan Greenway headed off to South Korea for Olympic action at the beginning of the month, there was little doubt as to whether he would catch the eye of the American public.
Greenway became a fan favorite, invigorating an aging U.S. Olympic team with his youthfulness and playmaking ability.
Upon his return to Boston, Greenway has made a similar impact on the Terriers (17-13-4, 12-8-4 Hockey East) despite a rapid turnaround after playing in his final Olympic tilt on Wednesday afternoon.
"He's got a physicality in his game that creates space for people," BU head coach David Quinn said. "He's got great vision."
Playing his first game at Agganis Arena since Jan. 20, Greenway hopped on the score sheet with an assist in a 2-0 victory over University of Vermont Friday night, just a day after returning to the United States.
"I was a little tired," Greenway said. "But it was good. I was excited to get back. To be with the guys again."
One night later, Greenway brought a similar energy and it showed throughout. In the first period, he netted his 10th goal of the season, matching his 2016-17 total, off a feed from freshman forward Brady Tkachuk. Greenway cut down the middle of the ice as Tkachuk, who would later be handed a game misconduct for a hit to the head one period later, handled the puck behind the net.
"The adrenaline kept me going," Greenway said. "I came back focused. It wasn't as hard to adjust as most would think."
Greenway found plentiful space 10 feet in front of Catamounts (9-18-7, 6-12-6 Hockey East) sophomore goaltender Stefanos Lekkas and Tkachuk diced the puck his way. The Olympian then slithered a one-timer into the bottom corner of the net for his first goal of the month on the North American continent.
"I don't know where Greenway gets the energy," Vermont head coach Kevin Sneddon said. "For him to play in the Olympics and travel and play as well as he did all weekend, I thought he was a big factor in the two-game series."
"He is a key part of our lineup," senior defenseman Brandon Hickey, honored Saturday as part of Senior Night, said. "He brings size and skill down low. That's a piece that makes our team harder to defend in the offensive zone. He is really good in the d-zone as well. It has been really good having him back. It's kind of a relief."
He nearly added to his tally in the final two periods. In the second, he beat his defender down the right side of the ice and charged toward Lekkas, his shot almost clipping the right side of the pipe. One period later, he rushed down the same wing. This time, he attempted to deke Lekkas but he folded the chance with the poke of his stick.
"[He] had two real good nights after being gone for as long as he was and coming back Thursday afternoon [on] a 16-hour flight," Quinn said. "He's going to get some rest here in the next week."
In South Korea, the 6-foot-5, 238-pounder served up a goal. Playing significant minutes alongside Harvard University junior forward Ryan Donato and University of Denver junior forward Troy Terry, Greenway made contributions in each contest with the Olympic squad.
In the Olympic opener, a 3-2 loss to Slovenia, Greenway wasted little time making his presence felt. With 7:30 remaining in the second stanza, he tapped home a rebound opportunity to give Team USA a 2-0 lead, one they would later squander in an overtime defeat.
Two days later, Greenway was a massive pillar at the face-off dot for Team USA as they knocked off Slovakia, 2-1. He won all six of his face-off chances as Team USA controlled 44 faceoffs to Slovakia's 14.
Greenway won five faceoffs while serving on the team's second line in a 5-1 win over Slovakia in the quarterfinals on Tuesday before being promoted to the group's first line in a 3-2 overtime loss to Czech Republic in the semifinals.
Playing with a bevy of former NHLers and facing overseas competition provided Greenway with some valuable tools to take back to Commonwealth Avenue.
"It was a faster pace than I'm used to playing" Greenway said. "[I learned] a lot of things, especially from the guys on my team. They've all had such great careers, such different careers. [I was] just learning from some of the things they've done. We had great leadership over there."