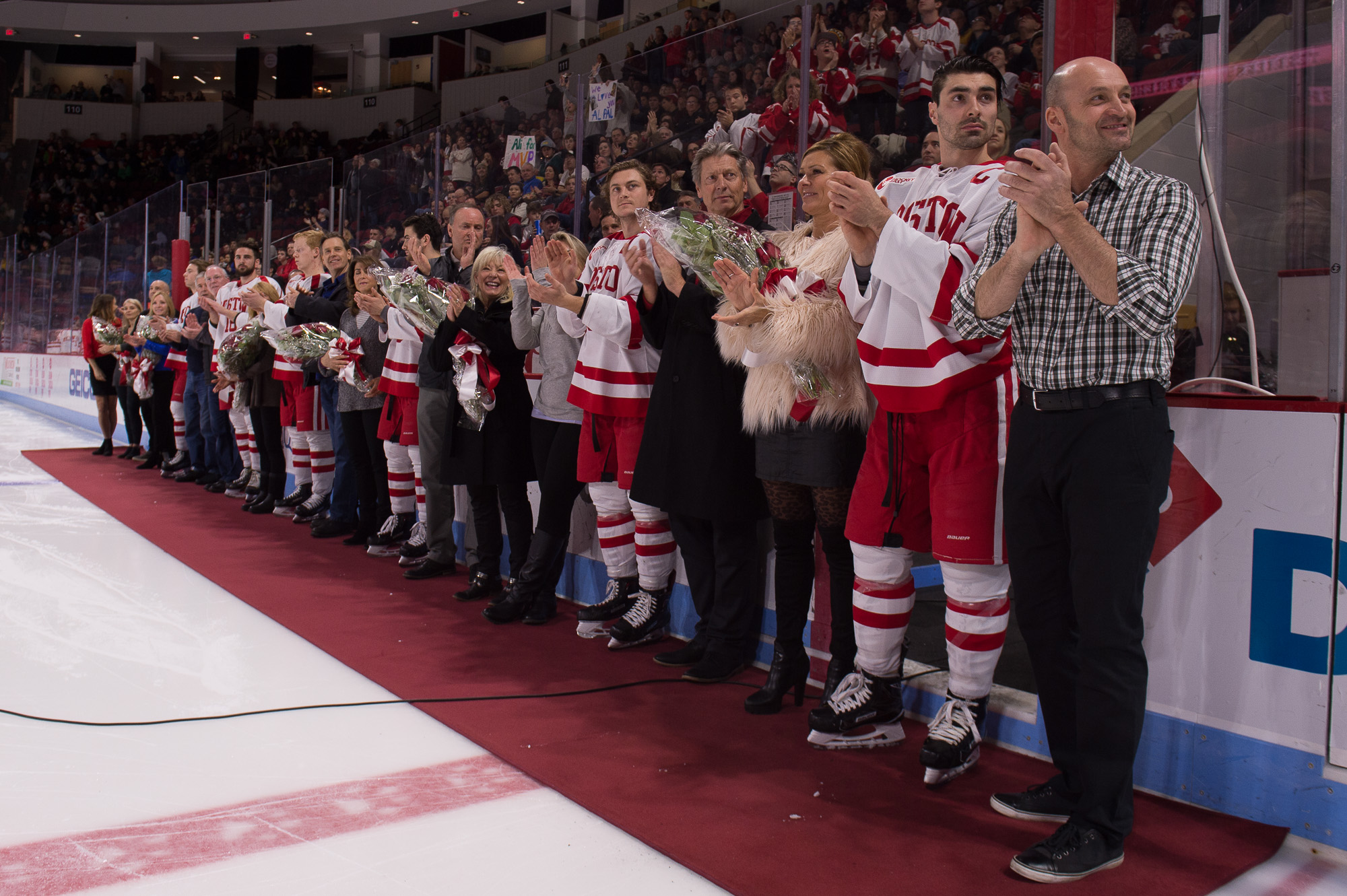 For the final time of the 2017-18 season, the Boston University men's hockey team participated in a regular season contest. The Terriers (17-13-4, 12-8-4 Hockey East) looked to take out their brooms and sweep the weekend series from the University of Vermont.
They were unable to recreate the magic of the night before, tying Catamounts (9-18-7, 6-12-6 Hockey East) 1-1.
Prior to the game BU celebrated its senior class of defensemen John MacLeod, Brien Diffley and captain Brandon Hickey and forwards assistant captain Nikolas Olsson, Chase Phelps and graduate transfer forward Drew Melanson as well as senior manager Ali McEachern.
"[It was] a pretty cool experience, it makes you feel pretty old," Hickey said on getting honored before the game. "The last three years you go through these days and you're like 'oh these guys almost have gray hair they're so old' … It's obviously pretty special to be honored like that. Especially with my class, I'm proud to be a part of that class. It's a class I call my brothers."
Friday, sophomore goaltender Jake Oettinger shutout the Catamounts. Saturday, he pushed his scoreless streak against the Catamounts to a little over five periods.
BU, however, found success in the first period.
With 1:16 left in the opening stanza, junior forward and assistant captain Jordan Greenway lit the lamp for the 10th time this season. Freshman forward Brady Tkachuk received the puck from behind Vermont's net and found Greenway in the slot who then connected on a one-timer.
Although BU found itself on a 5-on-3 advantage in the middle stanza, it could not convert any chances into goals.
Catamounts sophomore forward Ross Colton picked up a five-minute major penalty and a game misconduct for hitting from behind just 3:05 into the period. Just 2:14 seconds later, freshman forward Max Kaufman joined his teammate in the box for two minutes for high sticking. Junior forward Connor O'Neil served the penalty for Colton.
BU also picked up two penalties in the period.
Freshman defenseman Kasper Kotkansalo received two minutes for holding 8:55 into the period. Just like its opponents, BU also had a player get a five minute major and a game misconduct. With just 37 seconds left in the period, Tkachuk found himself removed for the game with a hit to the head. Freshman forward Hank Crone served the penalty.
It took a little over two periods, but the Catamounts finally beat Oettinger and recorded a goal.
Just 38 seconds into the final period of regulation, freshman forward Alex Esposito finished off a passing playing and slammed a power play goal to knot the game up at one. Junior forward Liam Coughlin and sophomore forward Matt Alvaro recorded helpers.
BU found itself on the wrong side of a 5-on-3 when freshman defenseman Cam Crotty found himself in the box for tripping 3:56 into the period and joined Crone.
However, neither team could score again in regulation or the overtime period and the game ended in a 1-1 tie.
Oettinger stopped 28 shots while his counterpart sophomore goaltender Stefanos Lekkas stopped 33.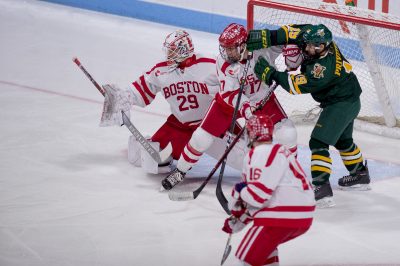 "I thought it was a great goaltender battle," Vermont head coach Kevin Sneddon added. "Oettinger was fantastic all weekend and so was Stef for us so that's why you saw such low scoring."
BU will be off next weekend and will return to Agganis Arena March 9 for the Hockey East Quarterfinals against the University of Connecticut.
However, the Terriers' head coach David Quinn added that BU will be without sophomore forward Patrick Harper for the rest of the season, but Harper should make a full recovery and be ready to suit up next season.
"Harper's out for the year. Good news is he's going to be fine, it's nothing too serious," Quinn said. "I couldn't pronounce [the illness] if you put a gun to my head. We literally got word today so we'll elaborate on it a little bit later. I really can't tell you what it is."