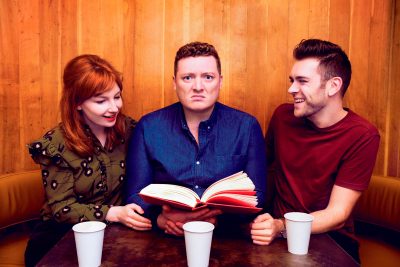 Jamie Morton's dad did the most embarrassing thing a dad could possibly do: he wrote an erotic novel. He didn't stop there, however. He self-published the first book, "Belinda Blinked; 1: A modern story of sex, erotica and passion," on Kindle and then sent it to his son to read.
Morton then did the only sensible thing he could think of. He gathered his two best friends, James Cooper and Alice Levine, and made a podcast out of reading "Belinda Blinked."
Since it premiered in 2015, "My Dad Wrote a Porno" has been downloaded 100 million times, becoming one of the United Kingdom's most successful podcasts ever. Each episode, Morton reads one chapter from a "Belinda Blinked" book (there are now three in the series, and author Rocky Flintstone — that's a pseudonym — is still writing).
Morton, Cooper and Levine started a live show of the podcast a year ago, and are now launching their first U.S. tour, with a stop in Boston on March 5. In an interview with The Daily Free Press, Morton said he excited to bring the live show to the states because some of the podcast's most enthusiastic fans are American.
"Americans just seem to think it's hilarious that three prudish Brits are talking about sex," he said. "I think they hear our accents and think it's going to be like Ron, Hermione and Harry Potter talking about cervixes and vulvas and penises."
Morton said audiences don't have to have listened to the podcast to understand what's going on in the live show, where they bring audience members up on stage, re-enact parts of the book and have video elements.
"It doesn't matter if you've never heard of these characters before, bad erotica is just funny," he said. "Everybody finds bad sex writing hilarious, so … it's a good entry point for the show."
Rocky Flintstone, the novels' author and Morton's dad, comes along to the live shows sometimes, though the trio never posts pictures of him on social media or uses his real name. Morton said his relationship with his father has changed since the podcast became popular, but it has changed "in a really great way."
"I've kind of gotten to know him on a different level …  obviously, a disgusting level, but also as a man, not to get too deep," Morton said. "It's been really nice to kind of reconnect with him …  we should be estranged, but it's actually brought us closer together, which is pretty cool."
Morton credits some of the podcast's success to the strong friendship he shares with Levine and Cooper. The three met when they were at college and have been making short films and web series while pursuing separate careers in the television industry.
"People feel like they're part of our gang and that they're friends with us, and that's one of the things we always wanted when we made the show," Morton said.
In between normal episodes of "My Dad Wrote a Porno," the team started recording "Footnotes" episodes, where they make announcements, talk about Rocky or have celebrity guests. Elijah Wood was the first celebrity to go on the show, and in 2016, Daisy Ridley direct messaged the crew on Instagram to ask if she could make a guest appearance.
"[Ridley] arrived at our flat with two bottles of Prosecco in her hands and said, 'let's do this,'" Morton said. "It's just really nice to let other people geek out about Belinda."
Morton said his father relishes the spotlight, even though he might not exactly understand the extent to which his writing has impacted people all over the world.
"We recently passed 100 million downloads and that just kind of blew his mind," Morton said. "He couldn't understand that all these people around the world were listening to what he wrote in his garden shed three years ago."
Ultimately, Morton said, the podcast is about porn, and they "can't really skirt around it." He said he hopes that people aren't put off by the podcast's title, because ultimately the live shows are really fun.
"Everyone's embarrassed by their parents, particularly dads, actually — embarrassing dads are quite a thing, aren't they?" Morton said. "And I've got the most embarrassing dad in the world. He's literally writing bad porn — it doesn't get more embarrassing than that."