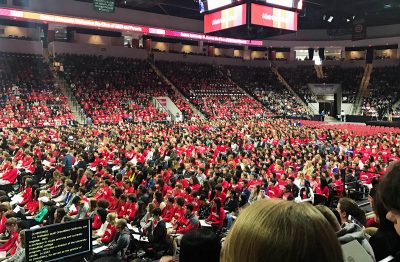 An energy-efficient lighting system recently installed in Boston University's Agganis Arena is expected to reduce the arena's annual electricity usage by 65 percent.
The conversion project, which took place during the summer of 2017, replaced the arena's metal-halide lamps with LED fixtures and occupancy-based sensors, said Elijah Ercolino, director of Building Automation Services. Building management can now control all of the arena's lighting using a remote-control system.
"Having the capability to instantly turn lights on and off, with precise dimming means the arena staff can do their job quickly and efficiently," Ercolino wrote in an email. "This new system also requires less maintenance from our Facilities Management and Planning team."
Ercolino wrote that the upgrade will create "a better experience" for hockey athletes, coaches and spectators alike.
Cassandra Leach, a sophomore in the College of Engineering, said she noticed a difference with the new lighting — she believes the lights have made it easier to see the hockey puck.
"I think it is important because it is usually very hard to see the black puck, and now it stands out more than before," Leach said. "I also think that the reduced emissions part is good …"
The installation was completed by BU's electric utility provider, Eversource Energy, according to Director of [email protected] Dennis Carlberg, and will significantly reduce BU's annual electricity usage.
"This will save approximately 885,000 kilowatt-hours of electricity, which is equivalent to 1,050 tons of CO2 avoided or taking 240 cars off the road for one year," Carlberg wrote in an email.
Nichole Kulikowski, a senior in the Earth and Environment Department of the College of Arts and Sciences, works at the ticket stand in Agganis. She said she appreciates BU's steps to take action as a leading university in sustainability.
"We have [a] sustainable dining hall, so I think it's great that we're being consistent with not just our dining hall but with everything," Kulikowski said.
Carlberg said he believes BU's partnership with Eversource is helping to put BU on track to achieve the goals laid out by the university's Climate Action Plan, which aims to reduce energy consumption 31 percent by 2032, with the eventual goal of net zero emissions by 2040.
"BU has a working partnership with Eversource that makes it easier to complete energy efficiency projects and maximize the incentives received," Carlberg wrote.
Jeff Pollock, the director of marketing and product management at Eversource, said he estimates that the LED lights will need to be replaced in 10 years. Pollock said the conversion project is beneficial for multiple reasons.
"It's the right thing to do … from a costs perspective, but BU's also done the right thing from an environmental perspective as well," Pollock said.
Karina Luetjen, a junior in the Questrom School of Business and baritone player in the Pep Band, which performs in Agganis, said she is glad BU is taking steps to reduce its overall environmental footprint.
"I just know [LED lights] are more environmentally friendly and energy-saving, "Luetjen said. "I think it's a really good initiative from BU, especially because there are so many events going on in Agganis and the lights are always on."
As for future plans between Eversource and Boston University, Pollock said he hopes to continue the partnership and help BU meet the goals set forth in the Climate Action Plan.
"We look to have long-term goals and long-term strategies around energy usage and helping BU and the other universities in the area to be smarter … with their energy usage," Pollock said.