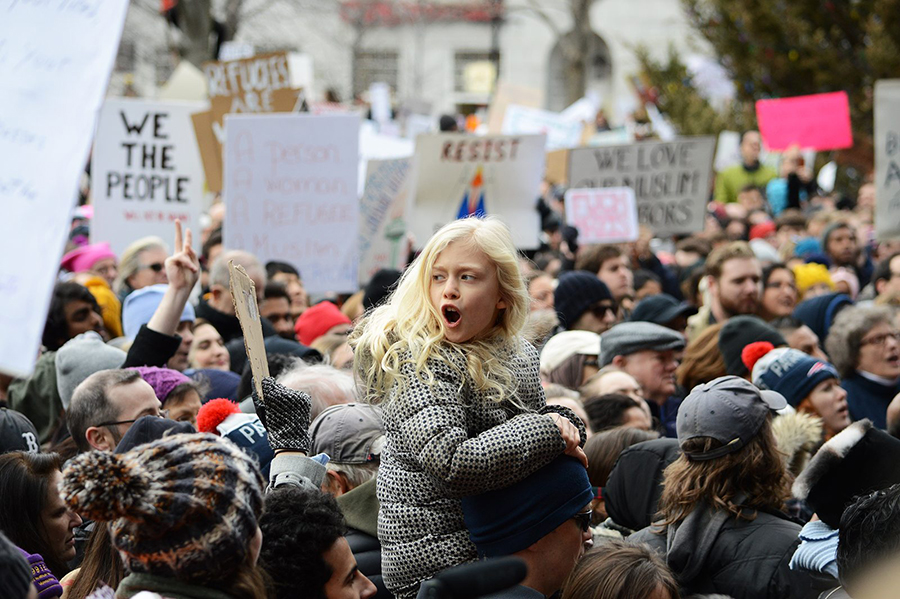 A group of black and Latino immigrants in Massachusetts filed a federal lawsuit Thursday to block the termination of the Temporary Protected Status program for Salvadorans and Haitians in the United States.
The lawsuit was jointly filed by the Lawyers' Committee for Civil Rights and Economic Justice and Centro Presente, an organization that fights for the rights of Latin-Americans in the Commonwealth.
Patricia Montes, executive director of Centro Presente, said in a press release from the LCCR that several of the plaintiffs are long-time Americans who deserve to remain in the United States, where they have built strong communities.
Juan Carlos Vidal, one of the plaintiffs in the case, is a Salvadoran immigrant, who has been a TPS holder since 2001. As an entrepreneur in the Greater Boston area, he owns four of his own restaurants. He also has two children who are American citizens.
Another plaintiff, Chris Jean Baptise, 19, is a student at Bunker Hill Community College and has been a TPS recipient since 2010. Outside of school, he works as a manager for a franchise of one of the United States's largest restaurant chains.
While he agrees with many of President Donald Trump's statements, Jeffrey Richard, 73, of the North End, said he feels that the federal government should protect the TPS program because their home is now the United States.
"I think [Trump] needs to have a heart and see that some of these people have been in the country for decades," Richard said. "Their country of origin is no longer their home. How are we supposed to ask these hard-working people to just [get] up and leave, and lose everything they've worked hard like an American for?"
The termination of TPS would leave over 336,000 Haitians and Salvadorans who would have little time to resolve their immigration status, the release stated. As it stands, TPS will terminate for Haitians in July 2019 and for Salvadorans in September 2019.
Natural disasters in both countries have displaced millions of people, leading to TPS designations for El Salvador in 2001 and Haiti in 2010. Since then, disease, stagnant economies, extreme gang violence and gender-based violence have stymied recovery for these countries. As a result, these countries don't have the means to take in a massive influx of immigrants, according to the release.
Ben Echevarría, executive director of Welcome Project, said he thinks the lawsuit couldn't have come soon enough. Immigrants that have TPS status do more good than harm, he said.
"These people are working, they add to our economy [and] they add to Medicare," Echevarría said. "They help us with a [potential for a] shrinking job force when the baby boomers retire. We just don't have enough people to fill jobs. We have people who are actually adding to our economy, and that's a good thing."
Deporting these immigrants will inevitably split up families, Echevarría said.
"The United States, even if they claim that they don't have an obligation to the parents, they definitely have an obligation to these children," he said. "So what are we going to do, put these kids into a foster care system that we already know is overburdened and needs work?"
Mario Cruz, 37, of the Chinatown-Leather District, said the rhetoric against the program is misguided because it fails to address the human element of the people involved in the program.
"It's misguided because it's easy to say [we need to] end TPS for millions of people taking millions of jobs away from Americans," Cruz said. "But when you meet someone who has TPS and see how hard they've worked to make it and provide for their family, you understand how it's a hard two-way street to find a middle place in which to meet."
Dawn Rose, 23, of Roxbury, said while she recognizes the merits of TPS, she thinks it has reached a point where people are taking advantage of it.
"The problem with programs like these, granting safe havens and amnesty, is that some people are going to take advantage of it," Rose said. "The best way to ensure that doesn't happen is to just end it."