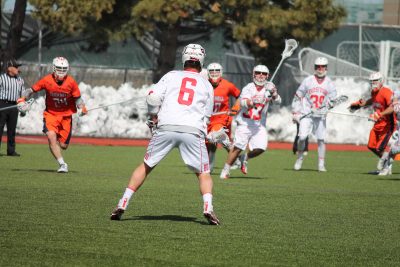 Following a nail-biter 10-8 loss at home against the United States Naval Academy Saturday afternoon, the Boston University men's lacrosse team looks to rebound against Bryant University on the road Tuesday evening.
The Terriers (2-2, 0-1 Patriot League) were unable to hold onto a lead, surrendering four goals in the fourth quarter, including two in the last minute, for Navy (2-2, 1-0 Patriot League) to grab the victory.
"I thought we played really hard," BU head coach Ryan Polley said of the weekend matchup. "It's just when you play really good teams like Navy, your details matter and every play matters, and I think there were just a few plays [where] we kind of lost concentration and our details weren't as good as they needed to be. I think that was the difference of the game."
Six different Terriers scored goals, but the defense allowed 43 shots, compared to BU's 29. The Terriers also faltered on the faceoff, winning only eight of their 22 opportunities.
However, the two teams were evenly matched on ground balls, with the Midshipmen only edging BU by one, 32-31.
Senior defender and long-stick midfielder Isaac Lipton had a career game, setting career highs in ground balls with four and caused turnovers with five.
"He's doing a little bit of everything for us," Polley said of Lipton. "… He's done great on the ball. He's drawing the number one offensive players so I've been really pleased with Isaac's performance in these first four games."
Heading into Tuesday, the Terriers are preparing for a matchup with Bryant (2-2).
The two teams faced off last season, resulting in a 12-9 BU victory, in which 11 different Terriers racked up points, including a hat-trick from senior attack Jack Wilson.
After the weekend loss, Polley said his team playing in a game so soon will help turn its attention quickly and get back on the field.
"Mid-week games are hard because you don't have as much time to prepare for your opponent and it doesn't really come down to scouting reports," Polley said. "You do a little bit more on the fly so I'm just looking for the team to come out with a lot of energy, work hard, play as hard as they can and go and execute what we want to do as a team and not worry too much about Bryant."
The Bulldogs this season have been bolstered by the performance of senior attack Cam Ziegler, who leads the team with 15 points and seven assists.
Freshman attack Marc O'Rourke and senior midfielder Tom Kennedy follow not far behind Ziegler with 13 and 10 points, respectively.
Over the weekend, the trio paced Bryant offensively, tallying 14 points collectively, in its 15-10 win over the University of Hartford.
Polley noted that something his team needs to be aware of is the Bulldog's transition offense, as they are clearing the ball at 94.9 percent.
"They really get out quick so we're really going to have to do a great job," Polley said. "Our offensive [midfielders] are going to have to do a great job of keeping field balance when we're on offense, and as they push that transition, getting back and matching up and not allowing them to get early offense and easy goals…"
A key factor in shutting down this transition offense will be BU's defense, which has allowed 40 goals this season.
After graduating many key defenders last season such as Dominick Calisto, the Terriers' defense has welcomed many new faces.
Polley said that creating a solid defense takes many factors, but feels confident in his defense after its solid performance against Navy.
"I think we're kind of close to turning that corner," Polley said. "I think right now we're an average defensive team and I think we're working hard to being a good defensive team and then hopefully by the end of the year we can be a great defensive team."
While the Bulldogs have also struggled to gain momentum early in the season, Polley acknowledged the challenge Bryant will present.
"They're really tough," Polley said. "They're going to come out and be physical and play hard so it's going to be on us to match their intensity and play with a lot of energy on a Tuesday night game."
Nicole Havens contributed to the reporting of this article.