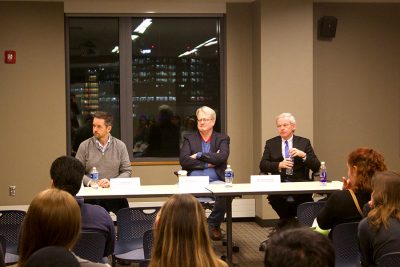 What makes a piece of news turn into fake news? Is it that the facts are wrong and that the journalism is inaccurate? Or is it that when a reader or listener disagrees with the news, the label "fake news" defends their ideological differences?
On Thursday, the Yawkey Center for Student Services hosted professors and students to share their perspectives on fake news and its effect on the virility of American democracy.
As audience members snacked on treats from local bakery Georgetown Cupcake, panelists discussed a variety of topics, including whether fake news is a new phenomenon, how the nation should deal with it and the media industry's bias.
Dave Shaw, executive producer at Politico and professor at BU's domestic study abroad location in D.C., said although fake news isn't new, the way it's being presented is.
"What is being said isn't that different, I don't think that's very new. But how it's being said is very different, and I think that's the bind that I think a lot of journalists find themselves in."
The difference, Shaw said, lies in consumers' ability to filter information channels to match their ideological preferences.
"[There are] two realities, choose your own adventure [style where] … people can consume or interact or think about the news that they are interested in," he said.
Shaw added that having some sort of verification technology, which could help consumers better assess the trustworthiness of news, could help.
Edward Downes, professor of public relations at BU, said only consuming news that agrees with your personal beliefs can be a dangerous, endlessly affirming cycle.
"There's been a dichotomization that's taken place, and what happens, as I understand it, is that we attend to media presentations which reinforce our pre-held beliefs," Downes said. "If you're a Democrat and you wake up, you can listen to NPR and go to work and talk to everyone who thinks like you do. You can listen to Rachel Maddow and wake up and do the same thing."
Downes said he's cautious of this kind of behavior.
"I'm not sure that that is healthy for democracy. It's information but I'm not sure it's education," he said.
"I just really think there is a market for [fake news] right now," said Tyler Orleans, a junior studying political science at BU. Orleans said he attended the event because he finds the relationship between the current administration and the media uniquely interesting.
"I don't think there has ever been an instance where a president has been under a microscope, in terms of media coverage," he said. "No matter what time of the day, no matter what day, they are always kind of front and center."
Walter Montaño, the event's moderator and the director of BUDC, said the goal of the discussion was to "encapsulate the spirit" of being open to all perspectives and opinions.
"Maybe it's a case for academia, in this case, needs to enter a new field or a new phase and make a better connection with the people of this country?" Montaño wondered aloud, in an interview with The Daily Free Press.
Stacy Ulrich, the director of student programs and leadership at the College of Arts and Sciences who helped organize the event, said she feels passionately about discussing fake news.
"It's really important to examine the source that you're using to get information" she said. "I think it's important to get a variety of perspectives even though it is hard sometimes. You know I want to listen to the news channels that sort of reinforce my beliefs and biases, but it's good to take in different types of news sources, so I can see what other people are listening to and hearing."
Students, Montaño said, should be extremely careful when reading the news.
"Look at multiple sources. Be active. Truth is obviously an elusive concept at times, but … basically try to make an effort to see different sides," he said. "Probably gravitate away from television, I would argue, going old school and reading more and looking at precise issues of what is driving policy and what answers are needed."