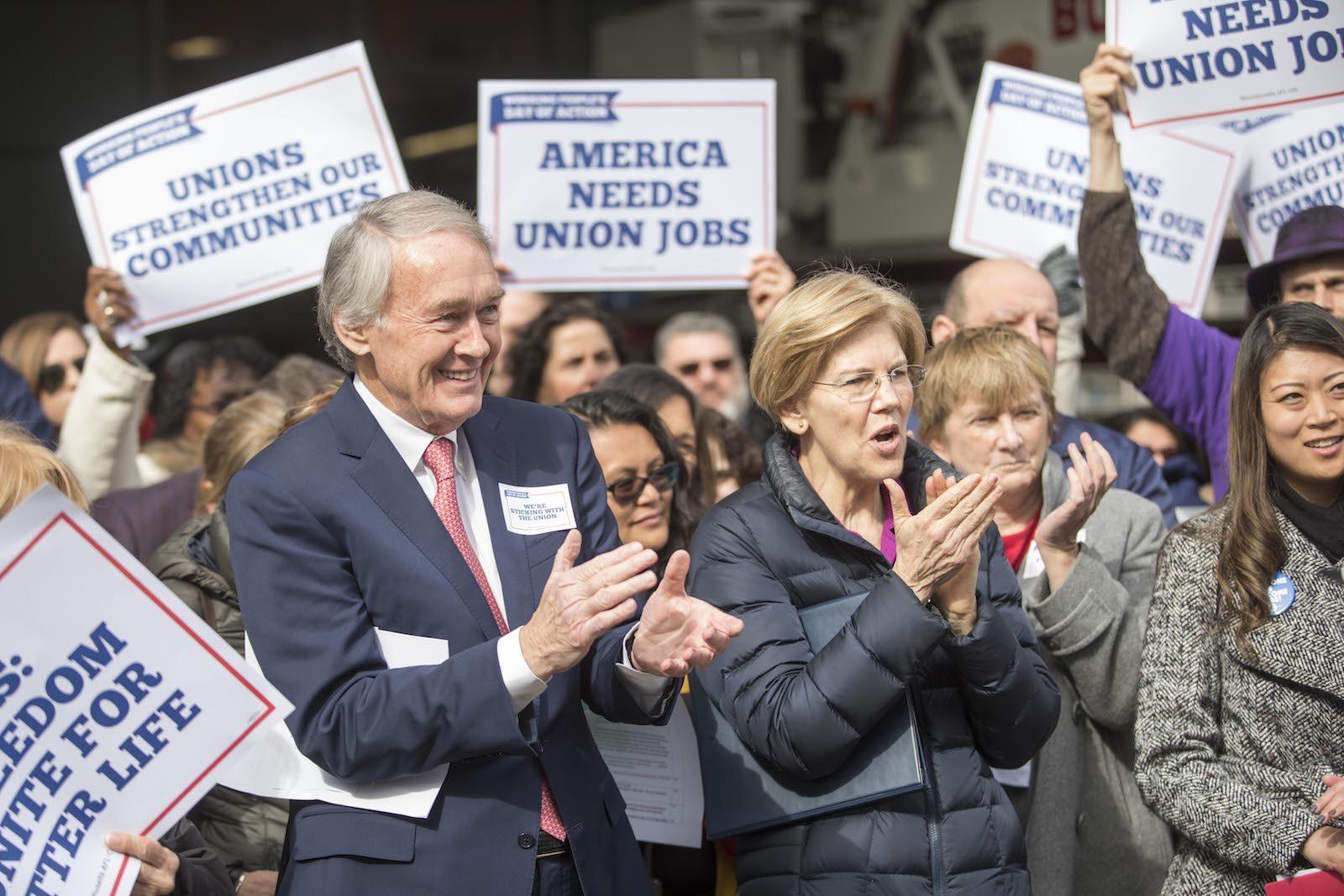 More than 200 people gathered Monday afternoon to rally in support of strong unions for public workers outside the Boston Firehouse Division One Headquarters.  
Timed to coincide with the U.S. Supreme Court hearings on Janus v. AFSCME, the Working People's Day of Action – Boston featured speeches by Sen. Elizabeth Warren, Sen. Ed Markey, Boston Mayor Martin Walsh and several labor leaders from both public and private unions in the state.
The rally was organized by two prominent public worker unions in Massachusetts — the Greater Boston Labor Council and the Massachusetts AFL-CIO.
Steven Tolman, president of Massachusetts AFL-CIO, said in an interview before the rally that affluent administrators are trying to reject workers' independence to join unions.
"I hope the people who [will see the event] understand that there are some very significant rights and freedoms to our democracy that are going to be challenged," Tolman said. "Working people are rising up to say America needs strong unions."
Tolman said there needs to be more conversations on the different freedoms active union members need.
"They want to limit the power of union members to speak out for equitable pay, for affordable health care, for quality public education," Tolman said in the interview. "We hope to have 100,000 conversations in the workplaces and we are certainly having several public demonstrations."
Janus v. AFSCME contests and hopes to overturn the Abood v. Detroit Board of Education decision which requires public workers to pay agency fees to unions, even if they are not members of said union. The argument for this law is that workers who are not in unions still benefit from the its collective bargaining powers.
Howard Williamson, 49, of Milton, a member of Plumbers & Gasfitters UA Local 12, said he attended the rally to protest the weakening of unions.
"It'll go back to the old days where you have no rights, no benefits, nothing — they shove anything down your throat," Williamson said in an interview.
Walsh said during the rally there is a need for unions to focus on supporting each other, especially against a case such as Janus v. AFSCME, which he said is about dividing workers.
"Instead of pulling down public workers, what we should be talking about is how to pull up all workers," Walsh said.
Warren said during the rally that it is essential to argue for workers' rights against long-term attacks by corporations against unions and workers.
"We are here to fight for the right to bargain for pay," Warren said. "We are here to fight for the right to negotiate for benefits. And we are here to fight for the right for workers to be treated with basic dignity."
Warren said unions built middle-class America, and if given the chance, they will rebuild the middle class. She said it's important for the government to work for the working class and not merely sell to the highest bidder.
Paul Miller, 58, of Somerville, a member of Laborers Local 223, said he attended the rally to support the pro-union candidates who were speaking.
"Usually if people are pro-union, they're trying to get us union work," Miller said in an interview. "I support the unions very, very much."
Lee Saunders, president of AFSCME, said  during the rally even though the day's presentations were over, the fight for political power will still continue.
"[Politicians] want more wealth and power at the expense of all of you," Saunders said. "And you know what I say, sisters and brothers? They can go straight to hell because we're fighting back."
Saunders said unions were facing enemies who wanted to "cut [them] off at the knees."
John Kerr, 54, of Rockland, a member of Local 103 IBEW, said without regulation, businesses will exploit workers.
"Companies left to their own, they will take advantage of people," Kerr said. "Just speaking for everybody, they need to rise up and stand strong in solidarity."