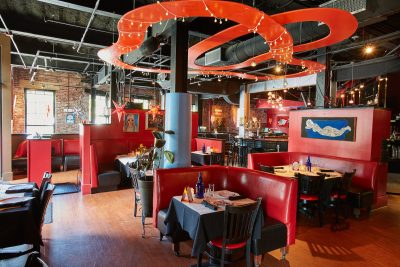 On a string-light illuminated stage, Boston's LGBT creators of color gathered Thursday both to celebrate their art and express their struggles.
The Theater Offensive hosted Breaking Thru: A Celebration Of Queer & Trans Artists of Color at Bella Luna & The Milky Way restaurant and lounge in Jamaica Plain.
"We want to keep queer culture in the community, and support what is being created by artists of color in the area," said Harold Steward, managing director of TTO, as he introduced the artists. "It's essential to tell the community this: that we're here, and we have something to say."
Through an approach they call "Out In Your Neighborhood," or "OUT'Hood," TTO encourages conversations about social change and acceptance in Boston communities.
"We've been really focused over the last year and a half on promoting local queer artists, especially artists of color, and showing what Boston's community has to offer," said Matt Gelman, associate managing director of TTO. "The biggest thing is to give them a platform and opportunity to build an audience and help them be seen."
Gelman said his organization chose a venue in Jamaica Plain in hopes of spreading art to Boston's less central neighborhoods."The fact that we held this event all the way out here in Jamaica Plain is significant," Gelman said. "We want to bring and create art to all areas of the city, not just downtown where theater often is. And we also want to build spaces that are queer-friendly and friendly to people of all backgrounds wherever we go."
Angelina Camacho, a 42-year-old community activist from Roxbury, attended the show to support her "community sister," Liz James, in her performance.
James's theater performance, "Welcome to Me-Ma's," was an excerpt from a longer project that she's working on. The piece depicted two half-sisters, one mixed-race and the other not, coming to terms with their family heritage and who they consider themselves to be today.
"I'm proud of Liz for bringing this to the stage today," Camacho said. "It was kind of a New Year's resolution for her to do this, because it was kind of intimidating, but she really has talent."
James first conceived the piece in a theater class at the University of Massachusetts Boston in 2004, and performed it two years ago at her church for Black History Month. She chose it for this particular event because she felt it fit the theme of the event, "Breaking Thru."
"['Welcome to Me-Ma's' is] about the barriers within ourselves, about colorism and intra-racial conflict," James said. "I wanted to put it out there, and tell my sisters of all the hues this: that I love you, and I am here for you."
Camacho brought her 9-year-old son, Chris, to see the performance so that he could better see the spectrum of the community. Grinning, Chris said he enjoyed the performances.
"He needs to appreciate everyone, not just for who they are or who I am, but who we all are as people," Camacho said.
Several of the performers were graduates or members of TTO's True Colors community theater program for queer youth, which was recognized in 2016 with the National Arts and Humanities Youth Program Award by former First Lady Michelle Obama.
Other performers hailed from Boston area universities. Joseph Quisol, who fronts the musical act Quisol, is a Filipinx-Puerto Rican student who is a graduate student at Harvard University.
He performed with Sharad Wertheimer, who played guitarrón, an instrument often used in mariachi music. The duo played two songs off of Quisol's new EP, "The World Keeps Turning."
"This song was born from questions and observations I had while looking at the social movements and political situations that surround us right now," Quisol said. "It's about feeling grounded in history and context, while simultaneously keeping up the struggle."
On March 19, TTO will hold their annual Community Speak Out event, which seeks to gather public input on what new programs and ideas the group should implement in the future.