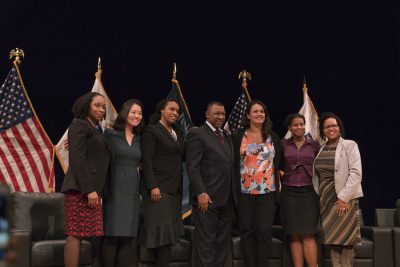 A town hall-style meeting highlighted the female Boston city councilors and how they portray representation as women of color in local government Tuesday night.
Around 70 people gathered for "A Conversation With the Women Who Lead," organized by the Suffolk County Sheriff's Department. Held at the Roxbury Community College Media Arts Center, the meeting was guided by audience submitted questions on issues ranging from being a woman in politics to gun control in light of the Parkland shooting.
Steven Tompkins, Suffolk County sheriff and the panel moderator, said in an interview that he hoped it would serve to create further communication between the community and their elected representatives.
The department previously hosted a similar panel with Boston's female city councilors in 2016. Because Councilors Kim Janey and Lydia Edwards were elected in November, Tompkins said he felt it was appropriate to hold another panel now that the Boston City Council is one seat away from having a female majority.
"Millennials, women and folk of color are getting deeper into the political mainstream, and this is the first time the Boston City Council has almost had a majority of not only women, but women of color," he said.
Tompkins' questions during the meeting were mostly provided by the audience, but he did have one major question of his own: how do the councilors plan to work with Mayor Martin Walsh?
"Boston is known for having a strong mayor and a not so strong council," Tompkins added. "[The councilors] will probably beg to differ, but they need to voice that so their constituents can hear how they are planning to deal with City Hall."
When Tompkins asked City Council President Andrea Campbell this question about the power dynamic between the mayor and City Council, she said the council can work independently of the mayor.
"Even when we can't necessarily come to a compromise or an agreement with the mayor, we can still get things done and move policies forward," Campbell said.
Jean Dolin, 24, of Boston, said it is rare to see policy-makers interact with their communities in the way these councilors do.
"They're not just on the council," Dolin said. "They're part of our neighborhood."
The audience was quiet, only occasionally snapping or applauding. However, they responded with cheers when Tompkins asked, "What are the best strategies for addressing men who readily interrupt you?"
Campbell said she simply doesn't give her energy to people who interrupt her, adding that women interrupt just as much as men.
"I just go in with the points that I want to make, and I make those points and I treat people with respect and I demand the same," Campbell said.
City Councilor at-large Michelle Wu said as someone who grew up shy and initially would have been "horrified" to see herself sitting on a stage talking to people, it was important for her to be prepared and say what she wanted to say.
"The best thing we can do is to support women who are trying to move up into the power system," Wu said during the meeting. "So hopefully by next year, that won't be a question."
Pressley said she has seen the disparity between the way males and females act at a young age. When she has visited different classrooms, she said boys would eagerly answer questions without worrying about the accuracy of the answers, while girls stayed quiet. For many years during her career, Pressley said she acted in a similar way, probably allowing a male colleague, or two, interrupt her.
"I embodied the idea that [men] knew more and better," she said of her early years. "And that's because girls are fed a bunch of crap early in life and then they grow into women who are killed by that construct."
Later in the meeting, Tompkins asked City Councilor Annissa Essaibi George, as a former teacher, what her stance is on the proposal to arm school teachers.
"I have thought about this since the first day I taught," Essaibi George said, beginning to cry. "I have thought day in and day out, as a city, how happy I am that we haven't had this happen and how afraid I am that it unfortunately could very easily happen."
Charlotte Fagan, 28, of Roxbury, who worked as a volunteer with Janey's 2017 campaign, said was excited to hear the councilors' plans for the remaining 22 months of their terms.
"I was struck by a couple of comments also that the role of us as constituents in Boston is to be active in the processes and that part of our responsibility is to be coming up with ideas for people to put in action," Fagan said.
Natalie Johnson, 59, of Weymouth and an employee at the Suffolk County Sheriff's Department, said she attended the panel because she was excited to hear from multiple women of color in government.  
"It's great that there are so many [women] finally, serving in the capacity that they're [in], and so many women of color," Johnson said.