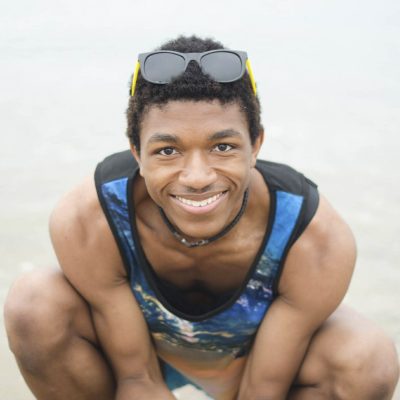 A classroom filled with people erupted into cheers and applause as three students laid their hearts on the line. On Thursday, UMOJA: The Black Student Union and the African American Studies Program hosted "In Your Own Words: A Student Spoken Word Event."
The event featured students' poems that addressed what identity and labels meant to them as people of color. "In Your Own Words" was one of a series of events that the African American Studies Program hosted for Black History Month.
The night's performers included Dev Blair, a junior in College of Fine Arts, Jessica Samuel, a student in the American Studies PhD Program, and Lynae Bogues, a student in the African American Studies Masters Program.
Blair opened the night with a poem about their objections to labels because they felt that many of them, including labels like queer and non-binary, weren't made to include people of color. Another poem of theirs described the magic and uniqueness of black curls.
Samuel dedicated her first piece to the movie "Black Panther." She spoke about having pride in the black nation and remarked that her self-identity is no longer white people's to debate. She ended with a poem that speculated about what advice her future self would give her present self.
Bogues focused her poems on intimacy and the stigmas that surround the sexuality of black women. She touched on what's it's like to be "the side woman" and the experience of being fetishized.
Ashley Griffin, a junior in both the College of Communication and the College of Arts and Sciences and an office assistant for the African American Studies Program, brainstormed this event after attending a spoken word event last semester. Griffin said she many of the performers' poems resonated with her.
"I like that they all touched on black love, because that's just a really important topic to me, especially in college because what they were talking … how men not texting you back or being non-monogamous and things like that, that's real," Griffin said. "I feel like a lot of people who are interested in men sexually, they really connected with that as well."
There, she learned of the presence of spoken word amongst students and discovered the potential impact an event like this could have.
"We often hear the perspectives and the statistics around African-American studies, but I'm really excited that Dev [Blair] was here, so they could share their experiences as well because I think that being non-binary is something that isn't talked about as much in life and in academics," Griffin said.
In addition to addressing issues the non-binary community faces, Griffin said, raising awareness around issues of intersectionality is important.
"There's never too much of [addressing intersectionality]," Griffin said. "I feel like our program does a good job of trying to get solidarity on different levels, not just race."
Addressing these issues via artistic creation often makes them easier to unpack, Bogues said.
"Honestly, I think things like this do more for racial solidarity as well, because we tried to do a racial solidarity event last semester, and it didn't go as planned because people come with a lot of baggage," Bogues said. "In a situation where you can use some art to express those things, I feel like it's much more receivable."
Art is also special because audiences can interpret the messages personally, Bogues said.
"[Art] has a way of crossing boundaries and allowing people to feel," Bogues said. "You get out of it what you take out of it. It's not like someone's forcing something down your throat. You're taking in something and interpreting it the best way that you know how, and that's the most comfortable space to do that kind of stuff."
Joseph Salzo, a sophomore in College of Arts and Sciences, said he found the student performances eye-opening.
"There's a lot [that we] –– me as a white person as well [as] society –– can learn, just about not being ignorant of other people's experiences and of other people's lives and how they live," Salzo said. "It's really powerful to hear their spoken word, their poems and just their art and how they speak, and it really resonates. It builds a connection between each other."