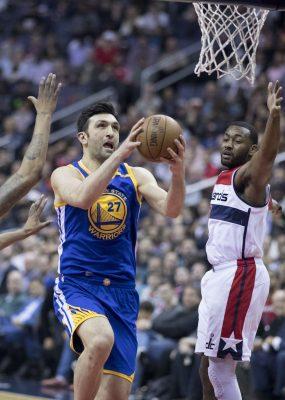 Growing up both watching and playing sports, I've always loved being the bad guy. There's just something within my competitive nature that needs my opponents to despise me or want me to fail that motivates me. Call me crazy.
When LeBron James joined Dwyane Wade and Chris Bosh in 2010 and the Miami Heat became possibly the NBA's most hated team ever, I was the team's biggest fan west of the Mississippi. Whether or not they were the favorites to win the title, I loved seeing a team silence the millions who doubted, slandered or challenged them throughout the team's reign.
And when the Golden State Warriors acquired Kevin Durant from the Oklahoma City Thunder two years ago, that team and I were like a match made in heaven. Granted, a Bay Area native and dedicated Warriors fan before Durant's arrival, I was even more excited for the season ahead.
I won't go as far as saying I like watching these teams overcome the odds, but there's definitely an exhibition of mental toughness on the behalf of the Warriors and the Heat that impresses me. Talent aside, it takes a different type of group to be able to respond to intense scrutiny on a daily basis.
But when I say I like being the bad guy, there's definitely a caveat. If that bad guy plays unethical or dirty basketball, I can't root for something like that. When Golden State center Zaza Pachulia made what looked like a deliberate attempt to injure Russell Westbrook Saturday night on national television, I was not happy.
And you should have been angry too. No matter how die-hard of a Warriors fan you consider yourself, there's no place for that kind of play in basketball. No matter how much you hate Russell Westbrook and the Thunder, there's no place for that kind of play in basketball. No exceptions.
After a drive to the basket in typical Westbrook fashion, he hit the deck beneath the basket. Trailing the play, Pachulia fell on top of Westbrook's legs after a miniscule amount of contact to take him down.
My issue is not just that Pachulia fell unnecessarily, it's the way he fell.
As a lifelong basketball player and 14-year NBA veteran, there's no debate that Pachulia knows how to fall properly. I learned how to break my own fall the first time I rode a skateboard at seven years old.
Mid-fall, Zaza did absolutely nothing to try and prohibit himself from landing on Westbrook's defenseless body. No hands out front to break his fall, no change of direction, nothing. All 270 pounds of him landing directly on the reigning MVP's legs.
No thank you.
Having watched the NBA for years, it's no secret that Pachulia has a track record as a dirty player. Ask his teammate David West, who got into it with Pachulia two years ago in a scuffle while West was on the San Antonio Spurs.
Or you could ask Westbrook, who was knocked to the ground last year by a hard Pachulia screen, who stood over for a solid three seconds while Russ grimaced in pain. I have zero doubt that Pachulia's fall last Saturday was intentional.
In my lifetime of avid athletic participation and viewership, the dirty player has always seemed to wind up on the second or third best team. You know, the team that can't quite beat the top seed and has to compensate in other ways.
Take Bill Laimbeer or John Stockton, who found themselves facing trouble against multiple Michael Jordan-led Chicago Bulls teams in the '90s. No knock on either player's game, but both pulled out the occasional dirty play to try and gain an edge.
But when the NBA's dirtiest player finds himself on the reigning NBA championship team, it begs the question — why? With this team, what compensation is needed? The Warriors are still neck-and-neck with the Houston Rockets atop the Western Conference, and I'm sure will still be considered favorites to represent the West in the finals.
After the NBA announced Monday that it would not suspend nor fine Pachulia, I was disgusted. He should not be playing in the league if he continues to play dirty with the intent to injure other players.
Don't forget the play in the Western Conference finals last year that ended San Antonio small forward Kawhi Leonard's season and propelled the Warriors to the easiest series they played in last year's playoffs.
Leonard has only played nine games this season, and although his injury is different, nobody's to say that the two injuries don't share a connection.
While the NBA has already spoken in its lack of disciplinary action for Pachulia's play, I hope that the league looks into plays like this differently in the future. And while Pachulia may be a lost cause, I will be extremely unhappy to see him compensate for his lack of talent with dirty play again.