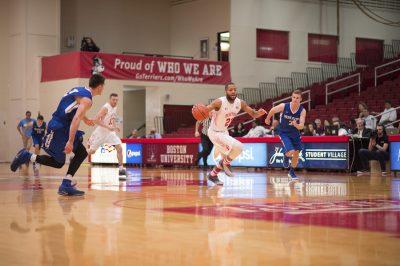 Once again, the Boston University men's basketball team is on a collision course with Lehigh University in the Patriot League conference tournament.
One year after falling to the Mountain Hawks (16-13, 11-7 Patriot League) at Case Gym in double overtime during the 2016-17 conference semifinals, the Terriers (14-15, 10-8 Patriot League) will now travel to Bethlehem, Pennsylvania Thursday night for the 2017-18 Patriot League quarterfinals.
"They're a very, very good team. I think they're playing probably the best out of anybody in the league right now," BU head coach Joe Jones said. "They're going to be awfully good. We've got to be ready and I think our guys feel good that we're back to being healthy again."
The No. 5 seed Terriers finished one game below the Mountain Hawks, who have won eight straight, in the regular season conference standings while Lehigh lost a tiebreaker to the United States Naval Academy to slide into the No. 4 seed in the tournament.
BU and Lehigh faced off twice in the span of a month during the regular season, with each team emerging victorious on their home court.
On Jan. 8, the Terriers' offense flourished in a 92-81 victory at Case Gym.
BU had four scorers in double figures with sophomore forward Max Mahoney scoring 22 points, senior guard Will Goff swishing five three-pointers en route to 17 points, sophomore forward Tyler Scanlon adding 17 and freshman forward Walter Whyte breaking out for 16 points.
The Terriers enjoyed one of their more potent halves of offense in the first half of the contest, scoring 49 points while making seven three-pointers and 18 field goals.
Junior guard Lance Tejada, Lehigh's leading scorer, dropped 21 points in the contest to carry the Mountain Hawks in the first meeting.
In the following matchup between the two squads at Stabler Arena on Feb. 3, Lehigh's offense broke out, even without Tejada in the lineup due to injury.
The Mountain Hawks shot 51.8 percent from the field while knocking down 11 three-pointers, a performance that paved the way for a 80-75 win.
"Defensively, I thought although we played hard, they shot a really high percentage," Jones said of the second game. "Offensively, I was pleased with our output and I thought we had a great will to win and we just came up short."
Jones said a key focus for his team going into this playoffs matchup will be defense.
"… They're such a great three-point shooting team, we've got to try to contest as many threes as we can and try to do our best to limit their makes," Jones said.
Freshman guard Caleb Bennett, who averages just 5.5 points for the season, busted onto the scene in the tilt with 23 points on 8-for-13 shooting in 27 minutes to carry Lehigh.
In the six games since, Bennett has scored 18 points, and it would be unlikely if he receives the looks necessary to grab 20-plus points again come Thursday night.
Lehigh senior guard Kahron Ross, on the other hand, is someone the Terriers will need to keep in check.
Ross scored 18 points, which included four three-point makes in the win over BU, and has developed even further as a scorer to propel the Mountain Hawks on their recent winning streak.
In an overtime victory over American University on Feb. 10, Ross exploded for 30 points on 13-for-21 shooting.
Over his last four games, Ross is putting up 15.0 points per night, a string including a 20-point performance in a win over Loyola University Maryland.
Jones noted Lehigh's offensive depth and stressed the importance of playing well as a team.
"… With individual guys, we have to do a good job of understanding what they like to do," Jones said. "Bennett crushed us [in the second game], but any of their guys can have big nights if you're not ready to play so I don't know if [any] one guy is a bigger [threat] than the other."
One thing boding in the Terriers' favor is that the team posted two solid performances against the Mountain Hawks without their leading scorer, senior guard Cedric Hankerson.
After missing five games with an injury, Hankerson has averaged 12.6 points per game over his past five contests.
His Feb. 21 showing against Lafayette College was critical in BU snapping a five-game losing skid. He shot 5-for-6 from three-point land while notching 17 points.
Whyte has also returned back to the lineup after missing four games due to injury and also helped the Terriers end their regular season on a two-game win streak, netting 14 and 10 points against Lafayette (10-20, 7-11 Patriot League) and the United States Military Academy, respectively.
"With [Hankerson and Whyte], we're 7-2," Jones said. "When Walt plays, we're 10-4, so we're definitely one of the top teams in the league when we're healthy and we play the way we're capable of playing, and now we've just got to go and get it done."