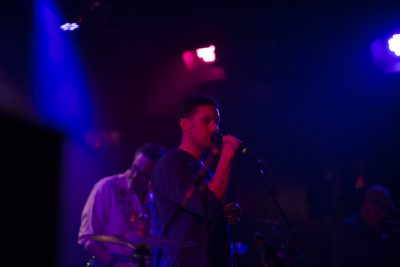 Rhye let their music speak for itself at their concert on Wednesday at Paradise Rock Club. "This is a healthy-looking crowd, it's great!" was one of the only things lead singer Mike Milosh said to the crowd the whole night.
Well before Rhye's appearance, their niche audience of alternative-R&B enthusiasts trickled into the Paradise with anticipation as opener Boulevards filled the room with funk music.
The spunky singer's remarkable ability to engage with his audience culminated in him jumping the stage barricade to lead a dance party in the middle of the crowd. The headliner couldn't have been more different from the man who'd just taken the stage. Even so, the audience was fired up.
As soon as the seven musicians were washed in purple overhead lights, a mellow ambiance replaced the energetic mood. The stage now hosted a full band, accompanied by a cello, violin and trombone.
After the musicians silently found their places and instruments, Milosh kicked off the set by leading the crowd through new and old hits like "Please" and "The Fall." Though low-key in rhythm and volume, Rhye's tunes evoked a new kind of bliss on guests' faces.
Compared to that of Boulevards, Rhye's music is far from "easy listening." The depth of intricately layered sounds and dark lyrics give the music less mass appeal. However, audience members did not seem phased by the passion on stage.
All eyes were fixed on Milosh during the emotional ballad "Stay Safe," which the singer performed like a plea. Lip-synced lyrics, mouthed through soft smiles, indicated an understanding between listeners and the storytellers behind instruments.
In contrast to many popular bands, Rhye isn't cohesive in personality or image. With members varying in age, gender and instrument choice, the band's parts do not form a complete whole.
Nevertheless, Rhye's unlikely instrumental pairings — a trombone in addition to an electronic drum synthesizer — create beautiful harmonies. Differences in training, musical background and personal experiences make their music that much more interesting.
The band's unique sound is rooted in Milosh's classical music background. In 2010, he co-created Rhye, and is the mastermind behind this smooth, atypical musical project. Not only is he responsible for the majority of the group's compositions, but it's his ethereal vocal tone that sets the group apart.
Milosh's signature airy vocals and sigh-like timbre created a poignant atmosphere. His ability to make himself sound like an Auto-Tuned instrument makes for a surreal experience.
His unmatched voice continued to awe the audience until the last song, "Song For You." Though many of the band's hits sound similar, variations in Milosh's vocal performance set them apart from one another.
His talent is not limited to singing, though. Throughout the concert, he split his time between the microphone, a set of floor toms and two pianos.
Many members showed off their varying talents. The electric cello player skillfully switched to trombone, and the drummer was also the band's DJ, using a soundboard to play an array of electric drums.
Having released two full length albums, "Woman" in 2013 and "Blood," on Feb. 2, the band is beginning to reach larger audiences. They are currently on a world tour that will reach Europe, Asia and Canada by September.
As the band finished their set, Milosh announced that the group is working on a new album to be released after their tour. They played a track from their new creation, which featured an upbeat melody and strong percussion. The audience went wild.
Rhye's dedicated following is motivated by a group of endlessly talented musicians, glued together by a remarkable talent and one golden voice. Streaming their music, it's easy to appreciate their unique sound and soulful stories. After seeing them live, it's hard not to fall in love with everything they are.