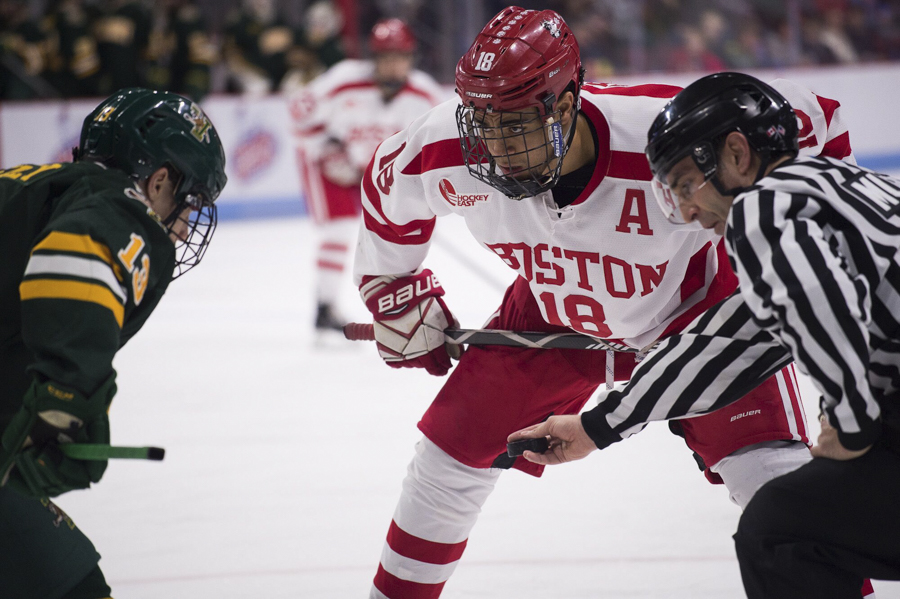 While walking along Commonwealth Avenue on a Friday or Saturday night during peak hockey season, one cannot help but observe the copious amounts of scarlet and white hockey sweaters that say "Boston." An outsider might assume they are seeing people heading to an NHL game, but they aren't — they are headed to Agganis Arena to watch the Boston University men's hockey team.
Despite the fact that college hockey has been around since 1896, ESPN SportsCenter anchor John Buccigross said he believes there has been an increase in viewership of the sport over the past decade.
"It seems to have increased. Twitter has assisted a lot in that," Buccigross wrote in an email to The Daily Free Press. "A lot of young men and women are covering and talking [about] college hockey. Also, there are more games on television than there was 10 years ago."
Buccigross is not the only person around the game who has noticed the impact of the Internet and social media on college hockey.
For the past 33 years, BU hockey fans have been able to turn on their radio and listen to Bernie Corbett's insights as he does play-by-play.
Corbett noted that social media has also played a major impact on the sport — both good and bad. Because of social media, people are now more easily able to follow hockey, Corbett said, and just having the coverage is a great thing for the sport.
But he is also aware of the issues it can bring.
"If people can get on there and [be] hyper critical or irrational or unfair in their criticism of players and coaches or whatever, that's something that's disheartening," Corbett said. "They can do that [and] they can hide behind whatever."
BU head coach David Quinn became a hockey coach in 1994 when he took a job as an assistant coach at Northeastern University.
Since 2013, Quinn has been the head coach of the Terriers. He said social media has made his job harder.
"It's put a lot more pressure on these kids [and] there's a lot more distractions," Quinn said. "Obviously they all value their coach's opinion and their evaluation of them, but there's a lot more going on in their heads … It's a challenge from a coaching perspective and it's certainly made coaching more difficult."
Corbett also pointed out the importance of TV coverage.
He agreed with Buccigross about the importance of the Big Ten Network and compared it to the emergence of the New England Sports Network (NESN).
Corbett said Hockey East and NESN began at "virtually the same time" in 1984, and since NESN needed programming, a great TV deal emerged between the new network and the new conference.
This was similar to when the Big Ten hockey conference and Big Ten Network were developed around the same time as one another, he said. The hold-up was that they only had five schools, and needed six to form a league that could receive an automatic bid to the NCAA tournament.
"Once Penn State pulled the trigger, or Terry Pegula pulled the trigger and gave Penn State 120 million dollars or whatever it was, once that happened and they knew they were going Division I, the next day it was like bang, Big Ten hockey," Corbett said. "And it was beautiful, because the Big Ten was just starting their TV network, and guess what? They needed programing."
Quinn said the media has grown over the course of his coaching career.
"There's more outlets, there's just more people talking to you and there's more stories out there," Quinn said. "When I first got into coaching, it was the Globe, the Herald and The Daily Free Press. Now you've got blogs and websites … which is good for the sport."
This past month, fans were treated to see four collegiate athletes represent Team USA on the 2018 Olympic squad.
BU junior forward and assistant captain Jordan Greenway, University of Denver junior forward Troy Terry, Harvard University freshman forward Ryan Donato and St. Cloud State University junior defenseman Will Borgen all wore "USA" across their chest in Pyeongchang, and made their presence known.
Despite competing against and playing with from the American Hockey League and the Kontinental Hockey League, the four college players showed why they deserved to have the spotlight.
In the five games the United States played, Donato lit the lamp five times, which had him tied for first in the tournament with two players from the KHL, former NHL superstar Ilya Kovalchuk and Kirill Kaprizov.
He was not the only player to find success.
Terry led Team USA in assists, finishing the tournament with five helpers, which included a three assist game against Slovakia. Greenway also had a productive tournament, finding the back of the net once during the team's match against Slovenia.
Corbett said one could make a case that Greenway, Donato and Terry were the best players on the team.
The Olympics also allowed these NCAA players to show that there is value in going to the NCAA.
"I think it's great for the sport [and] the growth of the sport. It's great for players, [especially for] the elite players to know that [college hockey] is an option for them," Corbett said. "Because there are options … look at [Toronto Maple Leaf forward] Auston Matthews going to Switzerland."
Although a player has the option to play in major junior leagues such as the Ontario Hockey League, Western Hockey League or Quebec Major Junior Hockey League, which make up the Canadian Hockey League, the NCAA offers a variety of benefits that those other leagues can not offer.
Quinn added that the NCAA is a better "brand of hockey," due to the league having older and better players.
He also said that there are benefits off the ice as well such as it allows players to "grow up" away from the rink as well.
"We are not a business," Quinn said. "Every decision we make is for the student athlete's best interest."
One key thing that both Quinn and Corbett noted was the increase in opportunities for players to go from the NCAA to the NHL in recent years.
Quinn said he's not sure if the players have gotten significantly better from when he played college hockey, but he agreed that the opportunities for young players have increased greatly.
"College hockey unfortunately has become more [of] a stepping stone instead of a destination," Quinn said. "When I was growing up it was all about going to a college and playing there."
Quinn said that the shift toward college players not staying in school as long does not impact how he coaches, but it does impact how he recruits.
"If guys … leave, they leave. If they don't like what coaches are doing, so be it," Quinn said. "You can't coach thinking this kid might leave … That being said, you want to create an environment where people want to stay."
While the landscape of college hockey is ever-changing, the game itself still remains a passion for the players and the fans alike.
"The cool part of coaching college hockey is the relationships you build with the players both while they're here and when they leave," Quinn said. "That's the difference coaching college hockey and any other level."