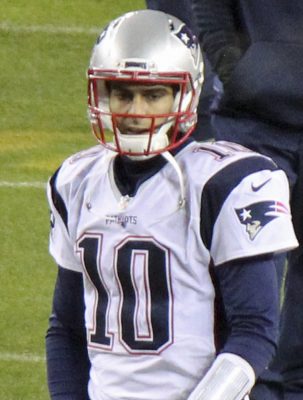 On Feb. 8, Jimmy Garoppolo signed the largest contract in NFL history — $137.5 million for five years — with the San Francisco 49ers, becoming their quarterback of the future for a franchise with a history of great quarterbacks.
The 49ers found their guy. Now general manager John Lynch and head coach Kyle Shanahan have set out to build a contending team around him, and San Francisco's future looks promising. But that future looked promising just a few years ago and didn't end how they had hoped.
In the early 2010s, the Bay Area was buzzing for 49ers football. Coming off back-to-back-to-back visits to the NFC championship game, which included a Super Bowl appearance, there was a feeling of a new dynasty on the horizon.
That new dynasty never came. Quickly after the infamous Richard Sherman tip-drill interception to Malcolm Smith, San Francisco crumbled. Jim Harbaugh was fired and ran to the University of Michigan. Star players left: Frank Gore, Michael Crabtree, Patrick Willis and Justin Smith.
The fanbase lost hope, and a new stadium near Highway 101 wouldn't bring it back. Fans could only think back to the success of the '80s and '90s for escape from the on-field product they had to watch every Sunday.
The team found itself in flux. Jim Tomsula and Chip Kelly each spent one year as the head coach, Colin Kaepernick and Blaine Gabbert shared time at quarterback, and the success of the Jim Harbaugh era seemed like a lifetime ago.
Then after the 2016 season, the organization decided to entirely clear out and rebuild their leadership and roster. Lynch and Shanahan were brought in to bring that new 49ers dynasty that the team was on the cusp of just years before.
Their first order of business was to clear out the remaining stars from the Harbaugh era. Kaepernick was not re-signed, NaVorro Bowman was released and they began developing their core of young players.
Shanahan and Lynch entered 2017 with minimal expectations, but also with resounding excitement around the team. Despite starting the year 0–9, the team saw young defenders like Reuben Foster, Arik Armstead, DeForest Buckner and Ahkello Witherspoon developing into talented players.
But even with a solid group of talented young players, they lacked the key pieces that would translate to winning games. That is until one day in late October when the New England Patriots traded Garoppolo to the 49ers for a 2018 second round pick.
As soon as Garoppolo landed in Santa Clara, the attitude of the team shifted. Many immediately knew Garoppolo was the leader of the team upon arrival, and for those who had any doubt, that doubt was erased after giving Garoppolo a chance to start in Week 13.
Once he held the keys to the team, the 49ers won five straight games to close out the season.
That win streak came without the team's top receiver Pierre Garcon and starting safety Eric Reid. After beating two AFC playoff teams, the Tennessee Titans and Jacksonville Jaguars, by Week 17 San Francisco as dangerous as any team in the NFL.
The only logical reason can be Jimmy Garoppolo effect, and we are learning the Jimmy Garoppolo effect is not limited to the regular season.
His presence in San Francisco attracted, former Seattle Seahawk and public enemy No. 1 in the Bay Area, Richard Sherman to join the team in free agency.
A player, who is so strongly disliked by a teams fan base, willingly defecting to that team is rare and takes a special situation to buy into. The 49ers have bought in and so has Sherman. While it may take a while, the fans will come around to him too.
Attracting high profile talent like Sherman will continue to come easier too.
With around $60 million in salary cap space this season, even after the $37 million cap hit from Garoppolo's massive deal, San Francisco has the cap flexibility to sign offensive weapons to Garoppolo to work with in Shanahan's high-powered offensive system or continue to bolster its defense. The 49ers will likely go hard after receiver and offensive line and secondary depth this offseason to help catapult them into playoff contention.
Even though the team will likely be losing their 2017 starting running back Carlos Hyde to free agency, it is doubtful Shanahan will go after a highly touted back.
Over the years, Shanahan's offenses have never relied on a premiere running back. Targeting Allen Robinson, who could cost less than expected after coming off an injury, would be a perfect fit on the outside for Garoppolo and fit the traditional X receiver mold in Shanahan's offense.
Malcolm Butler and Trumaine Johnson are available, and either can play opposite Sherman or inside to let Witherspoon, who like Sherman is a large and physical corner, continue to develop on the outside as a press-man or Cover 3 corner.
Now it is unlikely that these moves will turn them into Super Bowl contenders overnight, but the playoffs are not out of the question. Seattle is dismantling the "Legion of Boom," and the Arizona Cardinals still lack a franchise quarterback.
The Los Angeles Rams were the only team in the NFC West to make the playoffs last season, and while the Rams have acquired Aqib Talib, there still are players who played an essential role in their success last season. The 49ers might be the only team in the NFC West actually improving from 2017 to 2018.While it is way too early to proclaim that the 49ers are going to build a dynasty anywhere near the days of Joe Montana, Bill Walsh and Edward Debartolo Jr., the Garoppolo, Shanahan and Lynch look built for success — sooner and later.