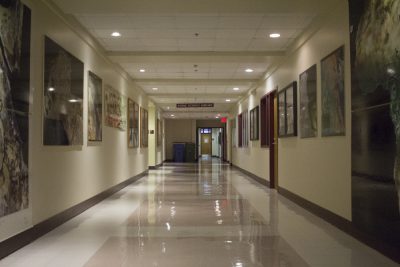 Boston University denied researcher David Marchant's appeal to keep his job late last month after previously concluding that he sexually harassed a young female graduate student around two decades ago, university officials said.
"[T]he dean accepted the findings and recommended the sanction of termination for cause," wrote College of Arts and Sciences dean Ann Cudd in an email to The Daily Free Press. "[T]he decision was appealed [by Marchant] to the provost, who has denied the appeal."
BU's Office of Equal Opportunity found in November that Marchant "engaged in sexual harassment in violation of Boston University's Sexual Harassment Policy and Equal Opportunity/Affirmative Action Policy," said a statement from Provost Jean Morrison.
The former student, Jane Willenbring, was one of a handful of women to level sexual harassment-related claims against the prominent geology researcher.
Willenbring accused Marchant of calling her a slut and a whore, pushing her down a slope several times, throwing rocks at her while she urinated and trying to persuade her to have sex with his brother, during a three-week-long research expedition in Antarctica in 1999-2000.
Cudd said Marchant now has the right to invoke formal proceedings as outlined in BU's faculty handbook, but said she did not know if he had taken advantage of those rights.
Marchant "has the right to have a faculty committee determine whether termination is the appropriate sanction" and until then, he will remain on paid administrative leave, BU spokesperson Colin Riley told Science Magazine.
Willenbring said that when she brought her then 3-year-old daughter to the University of Pennsylvania lab where she used to work, that was the trigger that inspired her to file the sexual harassment complaint against Marchant.
Willenbring said she remembered her daughter saying, "I want to be a scientist just like you, mommy."
She said she had shelved the idea of filing a complaint, but decided she wanted to do something to better the science community for future women, including her daughter.
Willenbring said she found the investigation process "bizarre" and added that she attempted to appeal BU's findings herself because they were "not true to the actual happenings."
"It took [BU] a long time and then they didn't even believe parts of it," Willenbring said. "Why would you believe parts of the testimony and not all of the testimony? Why would I lie about certain parts?"
She said the testimonies of another former student, Adam Lewis, which corroborated her account, were found by BU to be non-credible because Lewis had a disagreement with Marchant about his dissertation. Willenbring added that she felt her experiences during the investigation were like a "good-cop-bad-cop" routine.
"It seemed like one of the [Title IX officers] is sort of the proponent for the complainant and one of the Title IX officers is the proponent for the alleged harasser," Willenbring said. "But then in reality, they're actually both working for the university … to say that they don't have a vested interest in what happens is a little bit misguided."
Willenbring said Morrison told her about the final appeal processes Marchant could make to hold onto his job, but that she herself had made peace with all possible outcomes.
"It seems like if he's not fired for this offense, he will be fired from future offenses once they are brought to light," she said. "It's more like justice was served rather than me winning a case over him," Willenbring said. "In some ways, there's no way for me to win because it happened, and it was horrible."
Neither Marchant nor his lawyer, Jeffrey Sankey, could be reached for comment.