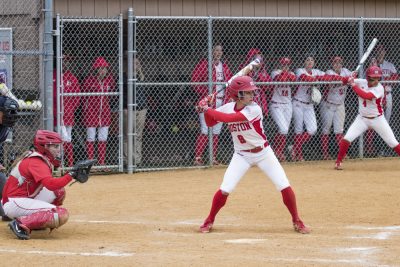 For many, there is nothing better than spending a week in the Southern California sun — and that is exactly how the Boston University softball team spent its spring break.
After participating in the San Diego Classic on March 2-4 and dropping a doubleheader to Loyola Marymount University on March 6 in Los Angeles, the team enjoyed an off day before beginning play in the Louisville Slugger Tournament Thursday morning in Long Beach.
The weekend was a tumultuous one for the Terriers (8-12), as they dropped four of five games to their West Coast counterparts. BU suffered gut-wrenching losses to San Jose State University and No. 21 California State University, Long Beach Thursday, losing 5-3 in a 10-inning marathon and 1-0, respectively.
The following day, the skies brightened for the Terriers as they were firing on all cylinders in a 5-2 win over San Diego State University.
But the team could not carry their momentum into the second game of the day, falling 6-0 to California State University, Fullerton, before succumbing 10-2 in the weekend finale Saturday afternoon against the No. 3 University of California, Los Angeles.
"It was a long trip and we faced some of the best competition in the country," BU head coach Ashley Waters said. "We got a little fatigued and weren't playing our best softball, but it was good to see some of our upperclassmen step up and lead and to see our pitchers continuously get outs against some of these top teams."
The Terriers began the Louisville Slugger tournament with an early wake up call Thursday morning at 9 a.m. BU fell behind San Jose State (15-9) by a score of 3-0 early.
However, behind a shutdown relief performance from freshman pitcher Cali Dolfi, who tossed six innings, BU managed to knot up the game at three runs apiece.
"[The pitching] has been great," Waters said. "One thing that is pretty cool is that our pitching staff is so young. They are freshmen and sophomores. For the freshmen, it is great to get a taste of what these tournaments and these great teams consist of. Coming into conference [play], that is a great sign in terms of getting experience."
Junior designated hitter Alexa Ponce got the comeback started with an RBI sacrifice fly in the fifth inning before junior catcher Alex Heinen doubled in a run and senior right fielder Emma Wong singled in the tying tally one inning later.
"[Heinen] has had a great start," Waters said. "[Heinen] is feeling confident and consistent in her role in the lineup. I'm proud of the way [she] is playing and I think she is going to get better. I'm excited to see what she does now that we are back in the Northeast."
But the Terriers would not be able to plate the go-ahead run, as San Jose State freshman pitcher Caroline Bowman allowed just three hits over the final 4.2 innings of the game. Dolfi's reign came to a close in the 10th inning, as she yielded a pair of runs to give the Spartans the win in extra time.
Dolfi rebounded in the second game of the day just hours later, pitching a gem of one run on six hits in seven innings to limit Long State Beach (19-7).
For BU, the bats were even more silent on its side as 49ers sophomore pitcher Cielo Meza spun eight innings of four hits and nine strikeouts for a complete game shutout.
Once again, Dolfi was saddled with the loss when Long State Beach walked off for the win in the bottom of the 8th on an RBI single by junior infielder Nichole Fry.
The following day, the Terriers were able to turn the tides against San Diego State (8-17), battering their opposition from the first pitch.
In the first inning, BU landed two runs on an RBI infield singles by senior center fielder Jilee Schanda and Wong.
In the subsequent frame, the Terriers capitalized on poor defense by the Aztecs.
Freshman left fielder Jen Horita reached base on a fielder's choice with two outs and moved to third when her attempt to steal second base resulted in an errant throw by San Diego State catcher Molly Sturdivant.
Aztec freshman first baseman Taylor Adams then committed an error on a knock by senior shortstop Brittany Younan, allowing Horita to cross the plate.
BU revved up the offense yet again in the fourth inning, scoring twice to take a commanding 5-0 lead.
With runners on first and third with two outs, Heinen stepped up yet again. Younan took second on a passed ball, allowing her and senior first baseman Kaitlin Sahlinger to score when Heinen singled to right field.
"When Younan is on, we have a chance to score her with [Heinen]," Waters said.