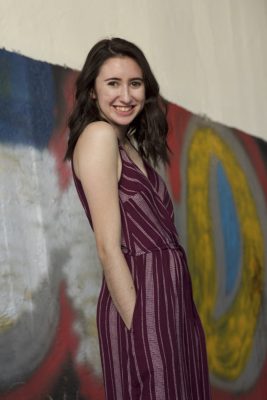 Have you ever left the house knowing you only needed to bring your phone and keys but ending up carrying an entire bag around because you didn't have functional pockets? Sarah Greisdorf  feels your pain.
Greisdorf, a freshman studying computer science in Boston University's College of Arts Sciences, created The Collective, a fashion website that helps women find clothing with functional pockets by showcasing garments on their website, in 2017.
She began the company after years of being frustrated about having to bring a bag around all the time, even when she only wanted to bring a few items with her.
"I kept seeing that all my guy friends had pockets in clothing, and I was confused [about] why girls didn't [have them, too]," Greisdorf said.
The Collective's website directs users to other websites for potential clothing purchases. Their intention is to create partnerships with and feature different brands using information the brands provide about their pocketed clothing.
"Instead of having to visit five or 10 different websites to find a dress with pockets, you can just come to our site, look through all the clothing that we have, click on the clothing, [which] will direct you to the actual website so you can go and purchase it," she said.
Currently, Greisdorf explained, The Collective is still trying to prove their value to potential partners.
"We're still in the beginning stages of the business, in what's called a market validation phase, so we basically want to be able to demonstrate to these companies that women are going to use our website," she said. "Otherwise, they really don't have an incentive to partner with us."
Although Greisdorf's startup is still relatively young, it already has a partnership with clothing company ShortStory.
"ShortStory shorts makes these shorts that have pockets so big, I forgot my phone was in them," Greisdorf said.
ShortStory is a company created by Carolina O'Leary, a high school sophomore at Holton-Arms School in Bethesda, Maryland. The company creates shorts suitable for all seasons and donates a percentage of sales proceeds to different charities.
"I love working The Collective because I think it's really going to give a high schooler the chance to reach the college scene and beyond," O'Leary said.
Greisdorf said they've been actively seeking out partnerships by sending out a newsletter every two weeks featuring clothing that has functional pockets. So far, The Collective has sent out newsletters featuring dresses, leggings and "spring break clothing."
Greisdorf said she hopes that having people subscribing to their newsletters will provide information and convince businesses to partner with them.
Greisdorf credited the BUild Lab with providing resources to build her company, adding that she wanted to start the company last year but knew that there would be more resources available to her once she began her freshman year at BU.
"The new BUild Lab [has] been super helpful in terms of having a space to meet with my team and being able to go to different events and pose pitches for my business [to] get the word out about it, and learn about ways to improve on what I'm doing," Greisdorf said.
One day, Greisdorf said, she hopes that people won't have to look for clothing with pockets. They'll just be a given.
"Men don't have to search out clothing with pockets. They already have them," she said. "So, I want that to be the standard in the fashion industry."
However, she said, that's a long-term goal. Right now, Greisdorf's mission with The Collective is to help people "find clothing that serve a purpose besides just looking cute."
"At the end of the day, it's about the quality and making sure everybody has the same functionality in their clothing, whether they're wearing men's clothing or women's clothing."