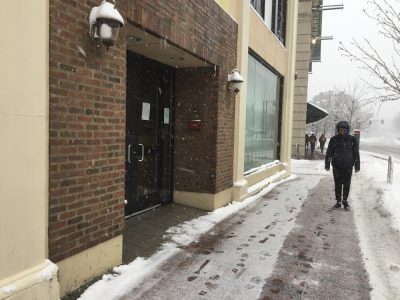 The Bertucci's restaurant located in Kenmore Square closed on Feb. 28 after 15 years of serving the BU and Kenmore communities.
The establishment was unable to renew its lease, as the landlord is renovating the building, according to a statement from Bertucci's.
Bertucci's Chief People Officer Christine Moscaritolo wrote in a statement to The Daily Free Press that Bertucci's was a "Fenway staple" for many, and that she hopes customers will visit its other locations. Many of the employees who worked at the Kenmore location were relocated to these other Bertucci's locations.
"We were grateful for the service and loyalty of the Kenmore Square team members and have relocated many to other Boston-area Bertucci's locations," Moscaritolo wrote.
Sara Mason, a sophomore in the College of Arts and Sciences, wrote in a text message that she didn't go to Bertucci's enough to miss it, but that she feels bad for the employees who lost their jobs once it closed.
"I think it'd be nice if another restaurant replaced it but maybe not a sit-down," Mason wrote, "just because it's on a college campus and it's nice to have cheaper food places to eat at when the dining hall food gets old."
CAS sophomore Rachel Kubrick, who used to work at Bertucci's, said she was not surprised by its closing.
"It never was terribly busy," Kubrick said. "But it's definitely unfortunate that they're closing."
Spencer Chapman, a senior in the College of Fine Arts who was a bartender at Bertucci's last fall, also said Bertucci's never seemed to be as busy as other nearby establishments.
I would look across the street [and] Eastern Standard would be slammed on a Friday night," Chapman said. "We would have maybe a third of the restaurant full, that's it."
Chapman said he would like to see Bertucci's replaced by something that caters to college students, as opposed to more high-end restaurants and bars nearby, like Eastern Standard and The Hawthorne.
"[They don't] create the same clientele that a place you would see in Allston would," Chapman said.
While the permitting process for the building has just begun, Related Beal, the development company in charge of the buildings underneath the Citgo sign, wrote in a statement that its properties will include retail and dining establishments.
"We believe this project presents a unique opportunity to expand the City's business base, enhance the pedestrian experience, and further the evolution of Kenmore Square while celebrating its rich character," the statement read.