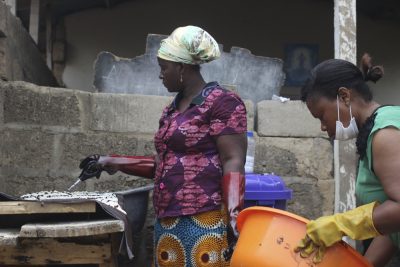 Having researched the life experiences of Ghanaians with disabilities since 2013, DL Lundberg, a graduate student studying public health at Boston University, is deeply familiar with one of their greatest challenges: finding work.
Lundberg created MFC Tie-Dye Inc., a nonprofit corporation that partners with Matilda Flow Inclusion Foundation in the Greater Accra region of Ghana, to employ and train women with disabilities and parents of children with disabilities.
As an undergraduate student at Boston College, Lundberg first travelled to Ghana for a research project, where he learned about the experiences of people with disabilities and of parents of children with disabilities and the difficulties they experienced with finding jobs.
During that trip, Lundberg met Matilda Lartey, the seamstress and businesswoman behind Matilda Flow Inclusion Foundation.
Lundberg bonded with Lartey during his stay and bought tie-dye clothes from her.
"Whenever I was back in the United States, people would ask me, 'What's with these super colorful, amazing tie-dye pants?'" Lundberg said. "And I would tell the story of Matilda and how she's this amazing seamstress."
In 2016, Lundberg went back to Ghana and partnered with Lartey to create a small pilot project and provided additional funding so she could expand her workshop.
According to Lundberg, there are currently very few inclusive employment spaces for adults with disabilities in Ghana. In exchange for funding, Lartey agreed to employ people with disabilities, other parents with children with disabilities and women with disabilities.
"I think when we include people with disabilities in employment, it can have an enormous difference on how people with disabilities are included in society," Lundberg said.
As a mother of a child with a disability, Lartey understands the difficulty of finding work.
"I decided to open this company because a lot of persons with disabilities are stuck in their homes and a lot of companies don't employ persons with disabilities," Lartey said.
As the manager, she makes sure to arrive to work before her employees to tell them what tasks need to be done for the day and make sure everything is running smoothly.
The project started with just a few workers, but the workshop now has about 10 employees involved. Many of the workers have goals of opening their own sewing shops in the future.
Some work full-time, so they can slowly save up enough money to open their own shop. Others participate in a program designed for mothers who have children with disabilities.
"They come to the workshop and they learn tie-dye cloth making," Lundberg explained. "They spend six months at the workshop and earn a wage, in addition to a small grant at the end of the six months so they can open their own little cloth making business in the community to support themselves."
So far, two women have successfully graduated from the program, and their tie-dye businesses are still running successfully. Although the workshop is small, Lartey hopes to one day be able to employ more people who wish to participate in their training program.
All the clothes made are environmentally sustainable and made from repurposed material. When they first started, they used imported organic cotton from Mali.
However, importing cotton created problems when the workshop went days without cotton because the delivery was delayed from the buses used. Ultimately, they came up with a better solution: using repurposed secondhand clothes.
Lundberg said that a lot of second-hand clothes are sent throughout Sub-Saharan Africa from the United States and other countries, and the donations can result in negative effects on economies.
"When you donate clothes or bring clothes into this environment, what it actually does is it puts the local businesses that are in the textile industry out of business, so it has a negative impact on the economy," Lundberg said.
Robert Loftis, a professor in the Pardee School of Global Studies, said undercutting local businesses is an unfortunate yet common side effect of charitable giving.
"One of the unintended consequences of charity is that it can hurt those it purports to help. This is particularly true of donated clothing," Loftis said. "It often ends up undercutting local manufacturers and retailers, putting people out of business without creating new value or new businesses."
Lartey said she feels optimistic about the organization's future.
"I hope this business partnership will make a lot of persons with disabilities and vulnerable people to smile," Lartey said. "I know in the future, this company will explode all over the country and across the country because of the good job Matilda Flow Inclusion and MFC is doing."