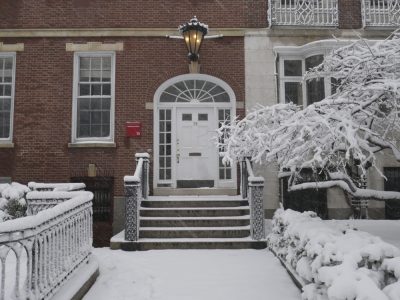 Boston University's Initiative on Cities and the National League of Cities presented their latest research findings at the South by Southwest festival in Austin, Texas Sunday afternoon, detailing that most U.S. mayors who were surveyed said access to education, housing, healthcare and job opportunities were better for white people.
The Initiative on Cities' annual Menino Survey of Mayors has been administered since 2014 and aims to both provide an outlet for mayors to voice their concerns, priorities and objectives and to facilitate academic research on mayors, according to Initiative on Cities Director Graham Wilson.
Data in the 2017 survey spans the views and opinions of 115 mayors across 39 states, a 25 percent response rate of those asked, according to the survey results.
BU professor Katherine Levine Einstein, one of the authors of the survey results, said to her, one of the most striking parts of the race data was that mayors were comfortable talking about inequality of access to opportunities such as housing and employment, but not the quality of public services.
"If we ask them, 'Is there inequality in the quality of mass transit services,' they said, 'Mass transit is equal for whites and people of color in my city,'" Einstein said. "That was sort of interesting to us, that they think access is unequal but quality is equal."
She said the opinions of mayors are important because mayors make it a priority to set the tone for their cities. She added that local government policies are a crucial part of addressing issues of racial equality.
"Mayors have a lot of control over things like the distribution of parks and street maintenance and schools in some cases and mass transportation systems," Einstein said. "So, if we're thinking about 'How do we get these local government services to treat people of different racial backgrounds equally,' mayors are going to be at the forefront of that."
Additional data from the study states that most mayors said treatment by courts and police were also better for white people than for others. Einstein said mayors differed starkly along partisan lines in their views on race.
"Democratic mayors were much more likely to acknowledge racial inequalities than Republican mayors," Einstein said. "There's also sort of a surprisingly large minority of mayors that think whites experience at least a little discrimination."
The topics covered in the surveys may vary from year to year, with 2017's survey focusing largely on housing affordability, housing reform, climate change and relationships with higher levels of government.
Wilson said he hopes the information covered in the surveys will be of interest to students of urban politics and urban government and that by publishing the views and opinions of the mayors, it may serve as a message to decision-makers around the country about the concerns and priorities of the nation's city leaders.
Wilson said the sponsorship of the Rockefeller Foundation and Citi are what makes the annual surveys possible. He added that BU's Initiative on Cities has a growing presence on campus and that it took the lead in planning an urban studies minor that will be available to undergraduate students starting next year.
Einstein said the Initiative on Cities is hoping to do another round of the Survey of Mayors next summer and has been starting to meet to discuss what questions would be most interesting to ask mayors for the next survey.
"I think we view ourselves as a place that produces high quality research on urban leadership and urban political leadership," Einstein said. "So, I think we're hoping to continue to develop that research portfolio."