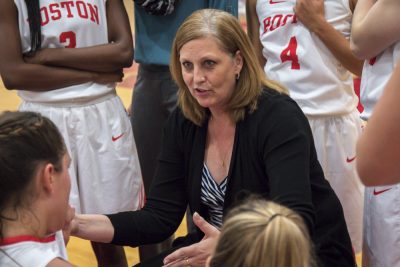 The director of Boston University athletics, Drew Marrochello, announced in a press release Tuesday evening that Katy Steding will not return as the head coach of the BU women's basketball team. The press release said that a "national search" to find Steding's replacement will begin "immediately."
"We would like to thank Katy and her staff for their dedication to our student-athletes and athletic department," Marrochello said in the release. "The expectations for our women's basketball program are high, and after a thorough review we have concluded that a change in leadership is necessary at this time. We wish Katy nothing but the best in her future endeavors."
Steding recently finished her fourth season at the helm of the women's basketball team and was the program's seventh head coach.
During her four years at BU, Steding amassed a 31-88 record and led the Terriers as far as the Patriot League quarterfinals during the 2016-17 season with a 13-17 record.
This past season the team finished with a 10-19 overall record and 5-13 in the conference after falling in the first round of the playoff tournament to Lehigh University.
Steding was not available for comment.