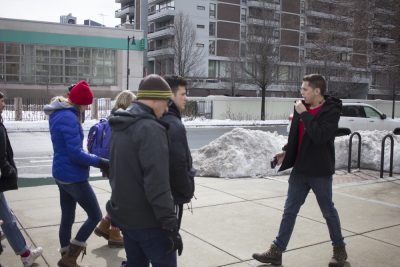 Boston University tour guides, also known as admissions ambassadors, are petitioning to get paid for their work, as they currently run tours for prospective students and their families on a volunteer basis. The petition was released just days after BU President Robert Brown announced a 3.4 percent increase in the total cost for tuition, fees, room and board.
The petitioners have organized their efforts under the name Tour Guides of BU on Facebook. Their principal concern is the fact that they are not being compensated for their work, while they help to bring revenue to the university by essentially recruiting students who eventually pay tuition, said Claudia Benincasa, a College of Arts and Sciences junior and former tour guide who contributed her concerns during the petition's drafting process.
"Being an admissions ambassador directly brings in profit to the university that allows it to function, so although BU is a nonprofit, the labor that BU students are doing is giving them profit," Benincasa said.
The petition outlines four overarching demands: payment, an employee contract, transparency and a work-study option. Tour Guides of BU is asking that tour guides be paid $15 per hour and that they receive paid compensation for their training period. The minimum wage in Massachusetts is $11 per hour.
The group is also asking for tour guides to be allowed to negotiate their hours with other employees and for the hiring process to be conducted with professionalism, meaning that a senior Admissions staff member should be present during interviews, among other demands.
Furthermore, Tour Guides of BU is asking for ensured transparency throughout the selection process regarding the duties of admissions ambassadors and the commitment that being an ambassador entails.
The petition also demands that being an admissions ambassador suffice as a viable work-study option for students who qualify.
John McEachern, BU's director of admissions, said the topic of payment for ambassadors has not yet been brought to the attention of the BU Admissions staff, but that they would willingly review the petition if and when they receive it. He added that the fact that ambassadors are volunteers is made explicit throughout the selection process and that ambassadors can benefit from the job in other ways.
"The Ambassador program provides an opportunity for Boston University students to show their love and appreciation for BU by sharing their personal experiences with prospective students and their families," McEachern wrote in a statement to The Daily Free Press. "Through the program, Admissions Ambassadors gain a deeper understanding of the University and develop public speaking skills."
For some of the petitioning tour guides, however, the joy of sharing their love for the university is not enough compensation for the work they do, said Hannah Kinney-Kobre, the president of Young Democratic Socialists of BU, which is providing support for the campaign. This semester, tour guides are required to lead 13 90-minute tours, in addition to attending monthly meetings and special events.
"I know [tour guides] that have quit because even if they liked being a tour guide — they liked showing people around and showing people why they loved BU — they couldn't keep doing it because they couldn't do something they weren't getting paid for," Kinney-Kobre said. "Anyone who does work, regardless of whether they love that work or not, deserves to be paid for it."
The petition was developed over the course of the last three months through a process of meetings and conversations between ambassadors and Young Democratic Socialists of BU. In the last couple of weeks, the process transitioned to making the campaign public by posting the petition online and starting a social media movement with the ultimate goal of eventually scheduling a meeting with Admissions.
As of Tuesday afternoon, the petition had amassed a total of nearly 200 signatures. Kinney-Kobre said she expects the Tour Guides of BU's goal of getting 100 signatures specifically from ambassadors to be met by their deadline of April 13, when they hope to have a "student labor town hall" meeting. The petitioners expect to have a meeting with Admissions sometime in the weeks following the town hall.
The decision to hold off on reaching out to Admissions from the beginning was a strategic one by Tour Guides of BU. Similar student-run campaigns, such as that of DivestBU, and those of other universities, have not had much success during their early stages when they go straight to the administration, said Benincasa. Tour Guides of BU wanted to accrue quantifiable support for their cause before taking the next step.
"Usually if you just reach out to the administration directly, they aren't willing to meet," Benincasa said. "Rather, you need to have the support before they're willing to meet, so we wanted to garner support before we spoke to them. It's not necessarily so much an attack on Admissions as it is [an attempt to get] respect for student workers."
Jen Racoosin and Mike Reddy contributed to the reporting of this article.