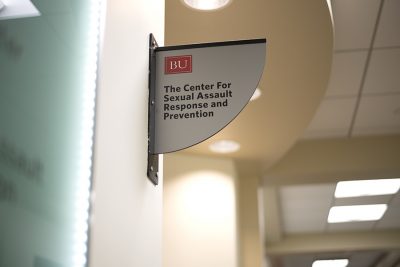 The rise of sexual misconduct accusations in recent months, especially within entertainment and higher education, has prompted calls for reform and heightened awareness among these institutions. On Wednesday, Boston University Provost Jean Morrison announced that all BU students, faculty and staff will be required to take an online sexual misconduct education course starting next fall.
The imposition of the mandated course is meant to expand on the existing online training courses, which the university has offered for the last few years. In 2014, the university implemented mandatory online trainings for faculty and staff and in 2016, the administration added voluntary online trainings for students.
The new online course, which is offered on EVERFI, the same platform that supports AlcoholEdu, will consist of three modules, each one designed in accordance with the needs of students, faculty or staff.
Katherine Cornetta, the assistant to the dean of students, sat on the committee that designed the sexual misconduct trainings for Blackboard in 2014 and 2016. The new program is built to be more mobile-friendly than the Blackboard program, streamlining the implementation process.
Cornetta said BU has taken inspiration from other universities in addressing issues of sexual misconduct.
"The university is following those peer institutions, as we did in 2014 and 2016, to help create awareness and give students, faculty and staff that direction when it comes to how to address these issues within the community," Cornetta said.
The fact that the course will be required for all current members of the BU community will allow the administration and other members of the community to hold people accused of sexual misconduct accountable.
"We want to make sure that people have the opportunity to be educated so that the notion of, 'Well I didn't think that was sexual harassment,' is not a viable rationale anymore." Morrison said.
The overarching goal, Morrison added, is to ensure that BU is the safe and productive community that it should be.
"It's an important indication of our commitment to doing what we can to create a culture for learning and working at BU so that it's really the place where people want to be to work and learn," Morrison said.
The final touches for the course and its full implementation are still in the works, with Associate Provost for Faculty Affairs Julie Sandell, the Dean of Students Office, the Equal Opportunity Office and BU's human resources department leading the effort. While the project is still a work in progress, Morrison said, it represents an important step for the university in educating the community on the implications and severity of sexual harassment.
"This online training is not the magic solution to the issue of sexual misconduct," Morrison said. "… This is just one thing that we're doing, but it's an important thing."
Jen Racoosin contributed to the reporting of this article.