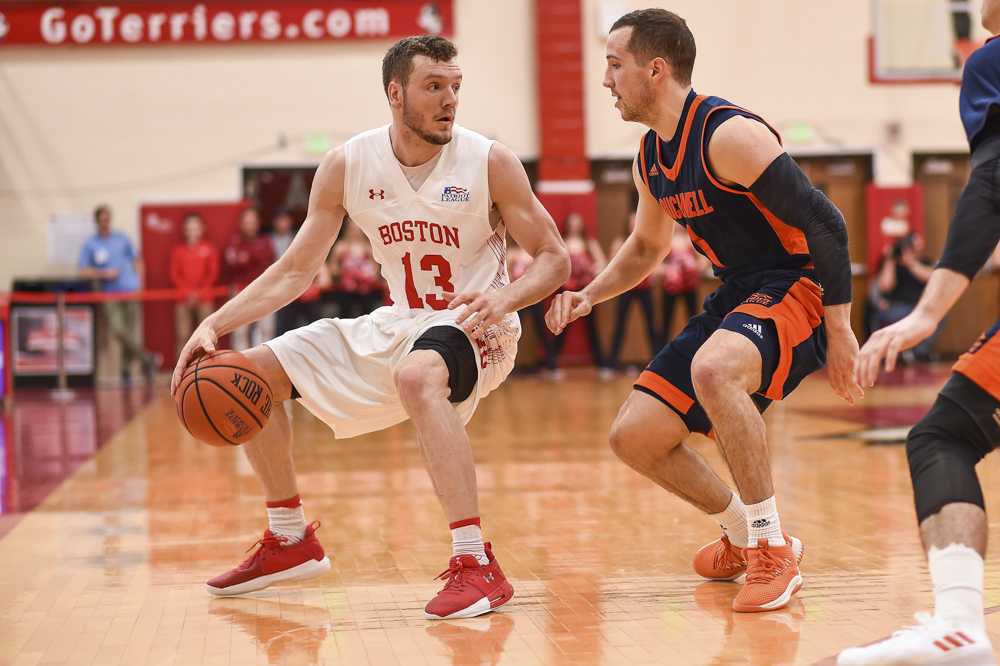 For the first time in its five-year history in the Patriot League, the Boston University men's basketball team finished below its projected spot in the conference preseason poll.
The Terriers (15-16, 10-8 Patriot League) ended the 2017-18 regular season fifth in the conference, coming short of the second place spot they were predicted to finish in.
BU finished its season with a 90-59 loss to No. 1 seed Bucknell University in the playoff semifinals. Freshman guard Walter Whyte, sophomore forward Tyler Scanlon and freshman center Sukhmail Mathon each scored in the double digits, but their efforts were not enough to overcome the Bison (25-9, 16-2 Patriot League).
Despite BU's four-year streak of outdoing the preseason prognosis coming to a close, the Terriers still managed to overcome a truckload of injuries to finish just two games shy of reaching the NCAA Tournament for the first time since 2011.
"I was prouder of this group than any I've had in past," BU head coach Joe Jones said. "They played more like a team than any team I've had. The culture was the best it has ever been. We didn't have any distractions. I really wished we could have stayed healthy."
The Terriers were hindered by ailments throughout the season.
Senior guard Cheddi Mosely and sophomore guard Destin Barnes played just twice before sustaining season-ending injuries.
"In past years, I wouldn't go into the injury thing too much, but losing two scholarship players hurt," Jones said.
Meanwhile, senior guard Cedric Hankerson, who finished his final season tied for the team lead in scoring at 12.9 points per game, missed five games in conference play while Whyte was absent for four games down the final stretch due to a leg injury.
"Losing [Hankerson] for [five games] and [Whyte] for four had a huge affect on what we could have had," Jones said. "When [Hankerson] and [Whyte] were healthy, we were really good."
Heading into the season, the Terriers knew they needed to have some of their underclassmen assume prominent roles on the team following the departure of its two leading scorers, guard Eric Fanning and forward Justin Alston.
BU witnessed just that.
Sophomore forward Max Mahoney was an energizer in his first season with the team, a high-octane performer in his 12 minutes per game. However, no one expected him to take the kind of leap he did during the 2017-18 campaign.
Mahoney earned All-Patriot League Third Team honors during a stellar season in which he set the BU program record for shooting percentage with a 60.1 percent mark from the field.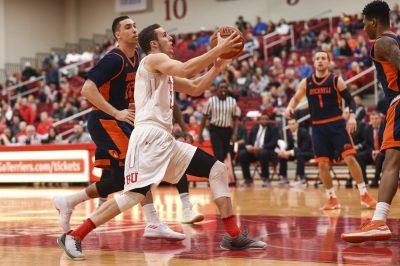 His minutes per game only bumped up to 21, but he shattered his 5.4 points per game average from his inaugural season, averaging 12.9 per outing in the 2017-18 campaign.
"He ends up shooting 66 percent from the floor in the games [Hankerson] did not play," Jones said. "He was great scoring the ball."
The 6-foot-8 forward had a number of explosive performances in league play, and while Hankerson was injured, Mahoney averaged 14.2 points for the team.
The Basking Ridge, New Jersey native scored 22 points in a 92-81 win over Lehigh University on Jan. 8 before netting 27 against Loyola University Maryland in just 20 minutes of action, making 12 of his 14 shot attempts.
During the Patriot League quarterfinals against Lehigh (16-14, 11-7 Patriot League), Mahoney stepped up in major fashion. He notched 27 points in 22 minutes, including a wild one-handed slam in the beginning of the second half in the Terriers' 88-82 win over the Mountain Hawks to advance to the playoff semifinals.
His emergence is a major boon for BU as it looks forward to the future. But Mahoney was not the only young Terrier to jump onto the scene this year.
Whyte played a major role on the squad during conference play, and his efforts were reflected in his being named to the All-Patriot League Rookie team.
The New Haven, Connecticut native scored in double figures in each of his last seven games, and put up 16 points and eight rebounds in the conference quarterfinals despite not being fully healthy.
"When [Whyte came back], he still needed four to five practices," Jones commented.
Whyte's nomination to the Rookie team marked the Terriers' sixth straight year of having a freshman named to the all-conference team, a run that could continue in 2018-19.
BU has four recruits committed to play for the school next season — three-star power forward Jordan Guest, power forward Jack Hemphill, small forward Fletcher Tynen and point guard Garrett Pascoe.
"They will earn opportunities," Jones said of the incoming players. "We are getting guys that are used to winning, guys from winning programs. It's an exciting time."