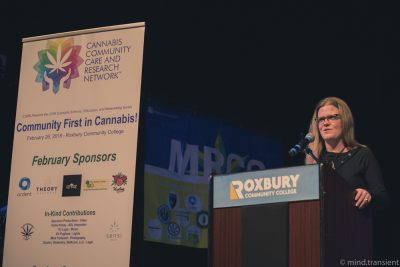 Dr. Marion McNabb met Doubt at an orphanage in Harare, Zimbabwe.
Named for his uncertain chance of survival, Doubt was HIV positive, and died when he was just 7 years old. Without the resources to even diagnose, let alone treat HIV, the nuns at the orphanage were helpless to save him. His twin brother, Definite, lived — perfectly healthy.
Moved by Doubt's story, McNabb said her experience in Zimbabwe kick-started a 15-year public health career in Africa, focused on bringing health care to those in poverty.
"I was just heartbroken by the fact that I knew in my country there were tests and medications available, and these children weren't even able to have the awareness that they actually had HIV," McNabb said.
After graduating from St. Louis University in 2003, McNabb got an opportunity working for the Center for Disease Control in Ethiopia. There, she managed the President's Emergency Plan for AIDS Relief, a U.S.-funded HIV treatment program.
"It was an incredible experience watching a country go from having no guidelines in place for HIV, not even testing, to watching a national government integrate a new health care system," McNabb said.
But after the 2016 election, McNabb said her career in Africa came grinding to a halt.
"My global health work was focused on women, sexual reproductive health and rights, low income countries — all of the things that the [Trump] administration really just doesn't consider," McNabb said. "I felt uncomfortable because I didn't want to represent [the] new administration."
When she returned to the United States, McNabb said she soon realized she was out of her comfort zone when it came to addressing the public health issues in her own country.
Her move back to the U.S. overlapped with Massachusetts' legalization of marijuana. McNabb learned that as a result of the federal illegality of marijuana, research licenses for cannabis studies on humans were virtually impossible to acquire. Any research on potential health benefits and risks of the drug were purely anecdotal.
McNabb said her concern about the lack of general knowledge surrounding medical cannabis led to the creation of the Cannabis Community Care and Research Network in partnership with her friend and colleague Randy MacCaffrie in 2017.
The goal of C3RN is to provide advocacy, research and education services in relation to cannabis, according to their website. However, McNabb said her ultimate goal is to create a "virtual cannabis center of excellence," which would combine the expertise of a broad range of researchers, ultimately addressing the lack of comprehensive knowledge on medical cannabis with a digital platform.
Back in 2008, while working full time in the Horn of Africa, McNabb earned her Master's degree online through Johns Hopkins Bloomberg School of Public Health, using Ethiopia's slow, dial-up internet.
Nevertheless, she persevered through the program, and said she quickly recognized that similar digital curriculums could be utilized to provide health education to rural African communities.
McNabb brought her idea to fruition in Haiti in 2013, where she implemented a project funded by the U.S government to rebuild the health care system of the developing country.
McNabb said project utilized mobile technology and the expertise of tech providers and software engineers to digitize health worker curriculums, creating audio messages and counseling software to educate Haitians on critical skills such as family planning, breastfeeding, immunization and HIV/AIDS.
McNabb also spent time working with the health and technology units at UNICEF to develop a global approach in using digital tools — research which she said inspired her to design a course on "leveraging technology in low income settings" at the Boston University School of Public Health, where she earned her doctorate in 2017.
McNabb's expertise in digital public health technology, combined with her interest in cannabis as a registered medical patient set McNabb and MacCaffrie's fledgling company up for success.
In November 2017, C3RN won the BUzz Lab's Cannabis Startup Competition, held by Boston University's Questrom School of Business.
Now, McNabb and MacCaffrie are hosting the "Cannabis Science, Education and Networking Series," a six-part series curated to produce a platform for discussion about the potentials of developing medical cannabis research.
Since C3RN's founding, McNabb and MacCaffrie have advocated to Massachusetts governmental groups over 30 times increase the accessibility of cannabis research licenses.
As awareness about C3RN grows and research licenses increase in accessibility in Massachusetts, McNabb says she hopes to continue to focus on all aspects of the medical cannabis industry with "cool and innovative approaches."