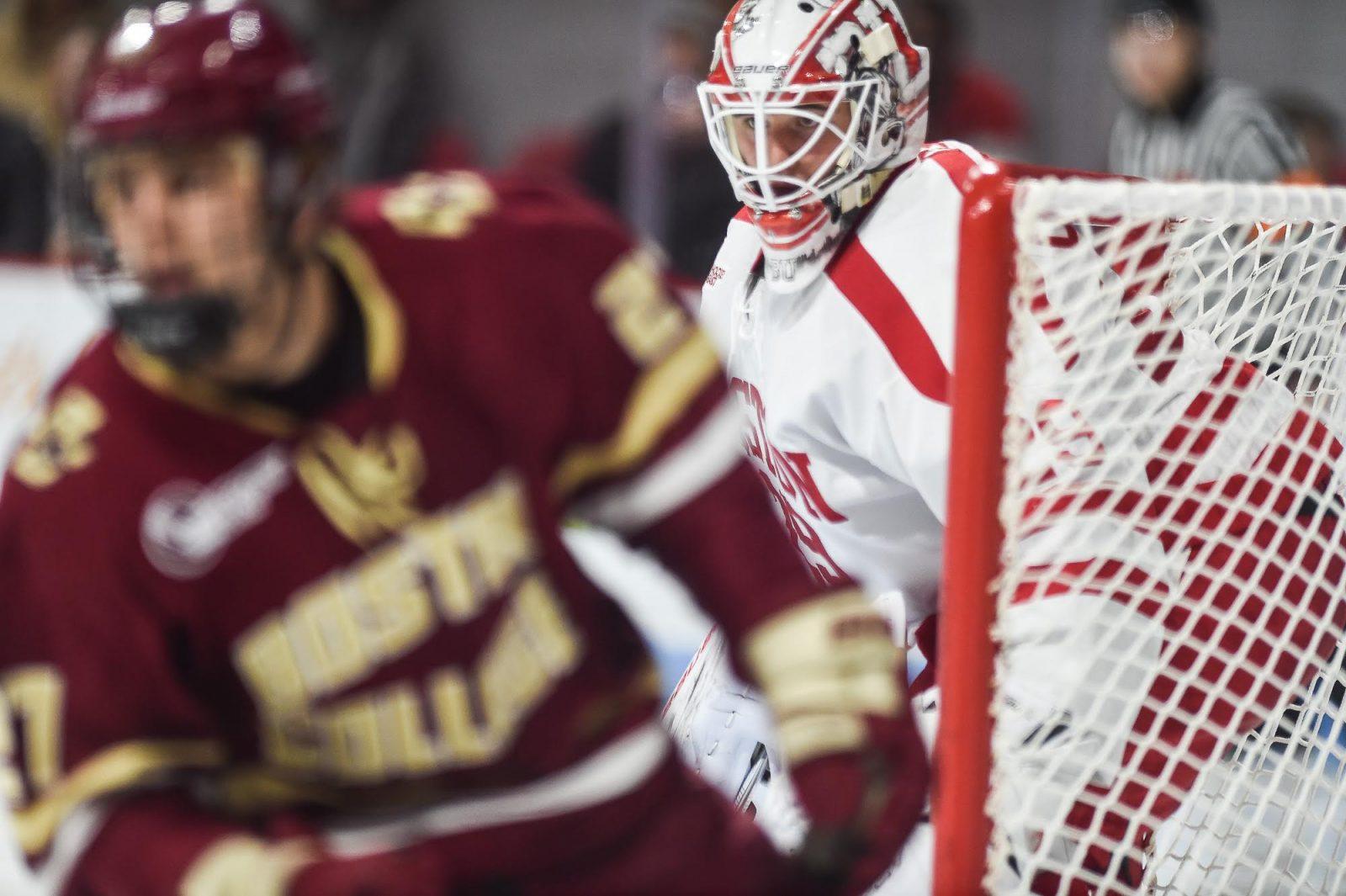 With its back against the wall, it is only fitting that the No. 18 Boston University men's hockey team will take on No. 14 Boston College in the Hockey East semifinals, in a game that more than likely will define its season.
"I think it's the best rivalry in college hockey, I really do. Other people might talk about different rivalries — Minnesota and Wisconsin — around the nation," BC (20-13-3, 18-5-0 Hockey East) head coach Jerry York said in Tuesday's Hockey East teleconference. "… I think rivalry, the history of it, the turn of the century, starting the series with our crosstown rival. Two outstanding programs, well documented the national championships that we both have and the caliber of players we attract to our schools."
If the Terriers (19-13-4, 12-8-4 Hockey East) win, they will face either No. 7 Northeastern University or No. 9 Providence College Saturday night with a chance to punch their ticket to the NCAA tournament. If they lose, their chances of getting an at-large bid to the tournament will drop to 0.2 percent.
Last weekend, BU swept the University of Connecticut in the quarterfinals despite being outshot 77-57 over both games.
Junior forwards Jordan Greenway and Bobo Carpenter, graduate transfer forward Drew Melanson and sophomore defenseman Chad Krys all lit the lamp in the first game's 5-4 overtime victory.
In game two, the freshmen led the way with forwards Brady Tkachuk and Logan Cockerill providing the two goals in the Terriers' 2-1 victory.
The goal pushed Cockerill's point streak to 10 games, which is the longest streak of any player in the conference this season.
Although Cockerill spends his time on the Terriers' second line, BU head coach David Quinn says he feels that his team actually has two first lines.
"Obviously because of Greenway and Tkachuk's size, I think they get a lot of the attention," Quinn said in Tuesday's Hockey East teleconference. "But Bobo has 19 goals, [freshman forward Shane] Bowers has 16 and Cockerill has eight. That's a lot of goals from your 'second line.' That's why in my mind, we have two first lines."
The Eagles also recorded a sweep in the quarterfinals as they bested Merrimack College.
In BC's first game, sophomore goaltender Joseph Woll stopped all 37 shots he faced to lead his team to a 1-0 shutout before making 30 saves in the Eagles' 4-3 win the following night.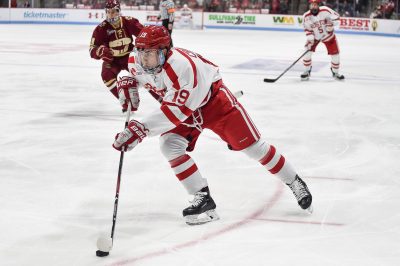 During the regular season, the two archrivals split their home-and-home series with the road team emerging victorious. When the puck is dropped at TD Garden Friday night, one team will wear its road colors, but there will be no true road team.
BU does not have look back too far to see the last time it played BC at TD Garden. Almost one year ago to the day, the Eagles skated off the ice in the 2017 Hockey East semifinals after beating the Terriers 3-2.
This season, BC is led by freshman forward Logan Hutsko, who paces the team with 31 points. This places him first in Hockey East among freshmen in points, and he has just one more than Bowers.
This game will also mark a goaltender battle between two-thirds of the goaltenders that represented Team USA in the 2018 IIHF World Junior Championship this past winter.
Woll sits fifth in the conference in goals against average (2.45) and sixth in goal save percentage (.915) whereas BU sophomore goaltender Jake Oettinger finds himself sixth in goals against average (2.49) and ninth in goal save percentage (.914).
"Well this time of the year it's always your goalie, you start there. Show me a team that's done well in the playoffs with a bad goalie and that would be the first time you ever see that," Quinn said. "It certainly starts with your goalie. Jake has had a really good second half, he's the reason why we were able to dig ourselves out of the big hole we had early in the year."
Since Jan. 5, Oettinger has boasted a .925 goal save percentage and 2.10 goals against average.
Quinn noted that although both BU and BC have had rough seasons to date, it is possible for both programs to turn their seasons around.
"I have always said, your program in my mind is always measured by how bad is your bad year and both BC and BU still have a chance to win a trophy and make the national tournament," Quinn said. "You win the Hockey East Championship and you're playing in the national tournament, that's a pretty good year. Around here and up the street, some people may think that's a bad year or down year. That's the great part of coaching at these institutions."