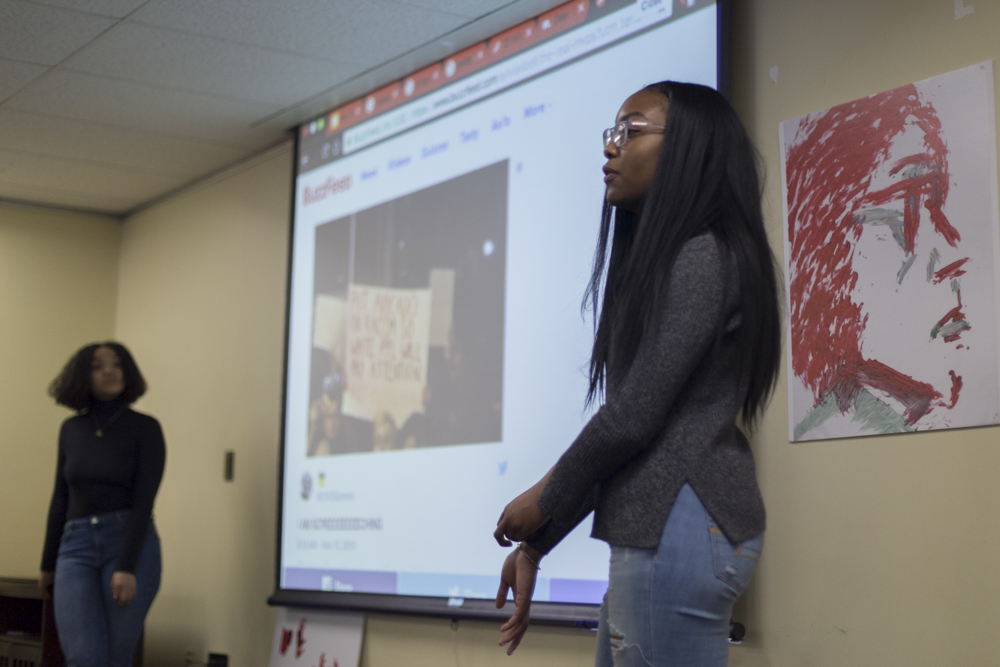 Umoja, Boston University's black student union, is planning to have a separate graduation ceremony on May 18 at 6 p.m. in the Questrom Auditorium, dubbed "Umoja's Rite of Passage" by Umoja President Sernah Essien.
Essien, a senior in the College of Arts and Sciences, said the ceremony will be a way to honor black-identifying graduates and their accomplishments. She said it will not be held at the same time as the all-university commencement.
"The Ghanaian word Sankofa will serve as the theme — it translates to 'looking back to go forward,'" Essien wrote in an email. "In this way, we want to remember and honor the work and legacies of those who paved the way and sacrificed in hopes that we could live out our dreams."
Rachel Harmon, a freshman in the Questrom School of Business, is Umoja's event coordinator. She joined Umoja because she "wanted to be a part of anything that would create and uplift the black community." She said this separate graduation will provide a sense of community one last time.
"Not all of the seniors have seen each other since matriculation," Harmon wrote. "With a Black Graduation, the black seniors will be able to feel close with the other black seniors who they may not have known."
Several students were reluctant to fully support the separate graduation because of BU's longstanding graduation traditions, but were not necessarily against it.
Angelee Verdieu, a freshman in the Sargent College of Health and Rehabilitation Sciences, said she supports the idea of a separate graduation because it acknowledges BU's black community.
"If you would go to the Howard Thurman Center [for Common Ground] you would definitely see a lot more people of color, but in the seats of graduation, I doubt you would see it as clustered," Verdieu said. "I think [the idea of a separate graduation] acknowledges a solidarity within the black community."
Jannellie Rivera, a freshman at the College of Arts and Sciences, said she initially thought a separate graduation was "odd," but added that because it did not affect her personally, she did not mind it so long as the students were doing what made them happy.
"It could be controversial for sure," Rivera said. "[But] I feel like [the participating students] would want to be more included with everyone else rather than try to separate themselves, so I can see how that can be taken the wrong way by some people."
Essien said having a separate graduation was important to her as president of Umoja. She said the Umoja Rite of Passage adds to the group's definition of unity while "celebrating diversity on a deeper, more honest level."
"My class is one that matriculated at a time of high racial tensions that have not lessened during our time here," Essien wrote. "We've had a different experience than our non-Black peers who are also graduating, and it is necessary to acknowledge that."
Sebastian Salas-Betsch, a School of Education sophomore, said he thinks Umoja's separate graduation ceremony is a cool idea and should be supported.
"I think it goes with the idea of black excellence and I think that is a theme or mentality that should be supported," Salas-Betsch said. "They paid money to go to the school — they can graduate however they want to. I don't think whatever they are doing is wrong. I think everyone is entitled to celebrate the end of their academic path the way they want to."
Essien, who hopes Umoja's Rite of Passage will become an annual event, said she is not personally worried about backlash, but believes that if there is some, it would mean that more work needs to be done to promote understanding and the appreciation of diversity.
"We must understand that a celebration of others — especially those who are underrepresented and often disenfranchised — is not a condemnation of our own selves," Essien wrote.
Beatriz Reyes, a student in the College of Communication, said having a separate graduation may not be the best approach and may result in ethnicity and nationality-based separation.
"If you're going to separate one [group] you're going to have to separate everybody else," Reyes said. "I have nothing against other nationalities and whatnot — I love people from different cultures and everything — but if you're going to give one group more of something what about the other groups?"
Harmon said she thinks there would be opposition because some may think the graduation is exclusive, but said that was not their goal.
"I think people would be opposed to this because it seems exclusive," Harmon said. "But they do not understand that many black people feel excluded in all spaces, so this is one that will be inclusive."